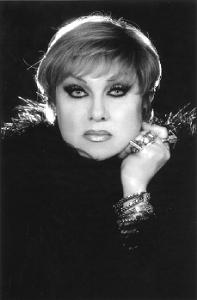 Photo by: Jennifer Girard
INDIVIDUAL | Inducted 2007
For decades Chilli Pepper has entertained thousands of people as a female impersonator, serving as an ambassador for LGBT community, building bridges between LGBT and non-LGBT communities, and heightening attention to the issues involved. She is an icon of the LGBT rights movement, having proved herself early as a visible and controversial symbol, gaining significant media exposure in the days when many people hardly spoke of, much less acknowledged, drag, drag queens, or AIDS.
Chilli was one of the first local media personalities to take up the issue of AIDS awareness, helping to bring HIV/AIDS into the homes of middle America at a time when the president of the United States was not publicly acknowledging the epidemic. Mentions in the Chicago Sun-Times (Irv Kupcinet's "Kup's column"), the Chicago Tribune (the "Tower Ticker" and "Inc." columns), Chicago's neighborhood Skyline newspaper, and People magazine, plus television appearances on Phil Donahue's, Oprah Winfrey's, and Jerry Springer's shows as well as Chicago's WGN-TV (Channel 9)—all at a time before Rock Hudson's death and its revelations rocked the non-LGBT world—brought Chilli into the forefront of the fight to confront AIDS.
When Donna Karan wanted to make a statement at the opening of Barneys New York's Chicago store, she called on Chilli to model as a mannequin in the main display window at the store's launch party, which also benefited the Design Industries Foundation Fighting AIDS (DIFFA). In 1979, when Michael Butler premiered the movie "Hair" in Chicago, Chilli was the premiere entertainment and introduced drag to an audience who may have thought "drag" applied only to car racing or having a bad day.
To LGBT communities in Chicago and beyond, Chilli's career is an exemplar of dedication, professionalism, and success. She has taken the art of female impersonation to new heights; her career at The Baton Show Lounge has helped to put Chicago at the forefront of that field. Since being crowned as the first Miss Continental in 1980, she has become well known across the United States and around the world.
Chilli Pepper has used her dynamic and formidable presence to advance awareness and understanding of the notion that diversity is both healthy and American. She explains who she is without apology, doesn't care if you accept or like her, and—best of all—challenges us to stand up for ourselves in the same way. She has become a Chicago institution, much like the Water Tower, only with better jewelry.