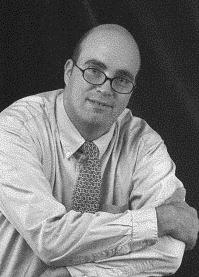 INDIVIDUAL | Inducted 2003 [Now Deceased]
On front lines, on sidelines, and behind the scenes, besides supporting reproductive choice and AIDS funding, John Pennycuff was an outspoken, proud, and ceaseless activist for sexual-minority rights in civil society and his United Methodist denomination. His commitment, courage, and energy have made him an exemplar for direct-action, educational, and political work toward equality.
Whether by organizing a forum on gender identity, by marching against anti-queer violence, by defending women's right to reproductive choice, by acting up for more HIV/AIDS funding, or by making sure that a politician does the right thing, Pennycuff was there as an outspoken and proud activist.
From 1992 to 2000, as a member of Queer Nation/Chicago, he helped to organize anti-violence marches, lobbied for the Cook County human Rights Ordinance, and marched with openly gay contingents in Chicago's annual downtown St. Patrick's Day parade. In the mid-1990s, in conjunction with both Queer Nation/Chicago and ACT UP/Chicago, he lobbied for housing for persons living with HIV disease at the San Miguel Apartments and at Casa Contreras and for increased funding to combat HIV/AIDS. In 1996, during the Democratic National Convention, he and partner Robert Castillo joined demonstrators outside the Cook County marriage license office against the so-called federal Defense of Marriage Act and for equal marriage rights.
In 1994 and 1995, Pennycuff was a complainant in the first case to go to trial involving sexual orientation under the county human rights ordinance. Also in 1995, as a member of the public, he joined the city Advisory Council on Gay and Lesbian Issues' Advocacy Committee and helped to organize support for a gender-identity amendment to city human rights laws. Later, as a mayorally appointed member of ACGLI (now the Advisory Council on Lesbian, Gay, Bisexual and Transgender Issues), he co-chaired the committee and has been a voice for bisexual and transgender inclusion and for greater representation of various communities on the council.
As an openly gay person at Grace United Methodist Church of Logan Square, Pennycuff was appointed a lay speaker in 1999, has chaired the church's administrative council, and has worked to make the church a more welcoming congregation for sexual minorities. Also in his home neighborhood, he volunteered in 2002 as an openly gay man with Castillo for the victorious 35th Ward aldermanic campaign of Rey Colon and conducted lesbian, gay, bisexual, transgender, and queer outreach efforts for the campaign. He died Jan. 29, 2009, following a two-month illness. He was 47.