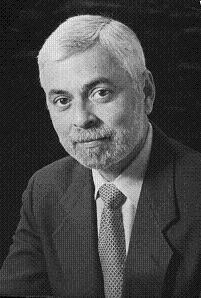 Photo by: Tracy Baim/Outline & Nightlines
INDIVIDUAL | Inducted 1995
As a pioneering video artist at Sidetrack, José Pepin Peña has created a unique style of show tune entertainment in a bar environment for thousands of Chicagoans and visitors to enjoy as they grow communally. With his business and domestic partner, Art Johnston, he has also made the bar into a source of political and financial support for AIDS work and lesbian and gay rights efforts.
Before he developed the concept at Chicago's Sidetrack, of which he, is co-proprietor, it existed in none of the nation's video bars. Since its 1982 establishment, Pena's, better known as "Pep", Sidetrack bar has also contributed untold facilities, time, and money in support of AIDS work and lesbian and gay rights efforts. Beyond these artistic achievements, as a popular Chicago bartender throughout the 1970s Pep advised and encouraged hundreds of Chicago gay men as they learned to be proud and to live full gay lives.
He continues as a nurturer of the community in his current business role. The atmosphere created by Pena's brand of video itself breeds a communal sense: On all the monitors during any given show, he offers a single unified production to engage patrons' attention, rather than foster a variety of competing images onscreen or among the crowd.
His love of video and its messages began as he was growing up and watching American films in the Havana of the 1950s. After the revolution, he fled Cuba, later brought his brother and sister to Miami, and reared them until he could arrange for his mother to come to the United States. Through a variety of humdrum jobs, he helped to support his younger siblings' education, forsaking thoughts of medical school for himself.
In 1968, Pena moved to Chicago and soon became a celebrated bartender at such 1970s establishments as Shari's, Ruthie's, Carol's Coming Out Pub, Alfie's, and the Annex. Despite an interest in music, he failed at attempts to land a DJ job, but eventually an observant entrepreneur recruited him in early 1982 to help open a video bar, which was then a new concept. Business prospects were uncertain, but before long the bar became a success, with Pep and Johnston, taking the helm after the sudden Florida death of the founding entrepreneur.
Ever since, Pep and his business partners and staff have coupled innovation with a keen sense of detail to enrich not only the business itself but also the culture and self-esteem of its large clientele. In 1995, Pena's contributions to community and art were memorialized by the Chicago Gay Men's Chorus in its production "Sidetrack: The Musical". (Please note: this information has not been updated since the time of the member's induction).