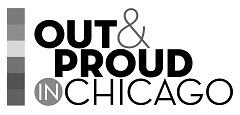 ORGANIZATION | Inducted 2014
Created at Chicago's public television station WTTW (Channel 11), Out & Proud in Chicago is an initiative to tell the history of Chicago's LGBTQ communities. WTTW producers Alexandra Silets and Daniel Andries spearheaded the first part of the initiative with an award-winning 2008 documentary, titled "Out & Proud in Chicago" and narrated by Chicago actress Jane Lynch. The documentary recounts incidents of LGBT life in Chicago from the Civil War to today through the extraordinary stories of 20 everyday Chicagoans, from age 30 to age 80, including men, women, and transgender people.
Through its preservation of history, the production has made significant contributions to community awareness and not only has touched the city of Chicago but also has had a broader reach. Its parallel history of the city tells a story of invisibility, oppression, devastation, revolution, and triumph.
The feature-length film was originally aired both on WTTW in Chicago and on Public Broadcasting System stations nationally. It has been re-aired in later years during Pride Month. In addition, it helped to launch the first comprehensive book about Chicago LGBT community history, titled "Out and Proud in Chicago", which was published under the editorship of Tracy Baim at the same time as the documentary's release.
Under the Out & Proud in Chicago umbrella, WTTW has produced or broadcast other documentaries about LGBT Chicagoans, including its "Schoolboy to Showgirl: The Alexandra Billings Story" (2009), and Rick Delaup and Sandra Quinn's "Short Fuse: The Story of an AIDS Activist", a 1990 local documentary about the late artist and activist Danny Sotomayor.
Chicago's role in national LGBT history is often overlooked. Yet major milestones include the country's first chartered gay-rights organization (1924), Illinois' position as the first state to abolish a sodomy law (1961), the pushback that helped bring down Anita Bryant's national campaign of homophobia, and creation of one of the country's premier LGBT community centers, the $20 million state-of-the-art Center on Halsted. The Out & Proud in Chicago initiative is committed to educating and enlightening people about the key role Chicagoans played in the overall history of LGBTQ Americans. That commitment mirrors the mission of the Chicago Gay and Lesbian Hall of Fame itself.