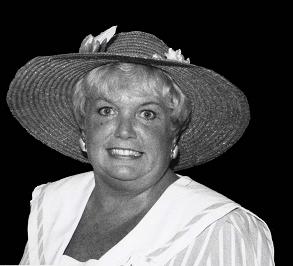 FRIEND OF THE COMMUNITY |  Inducted 1993 [Posthumous]
As a "Friend of the Community", 48th Ward alderman, city special events director, and longtime political activist, Kathy Osterman helped to forge critical links between Chicago government and the lesbian and gay community. She played a crucial role in passage of the city's human rights ordinance. Born in 1943, she died of cancer in 1992. She was a true "friend" of the gay and lesbian community.
A long-time community activist in Edgewater and Uptown, Osterman [in 1981] joined the Cook County State's Attorney's office as supervisor of the Community Unit, which acted as a liaison between the prosecutor's staff and the public. She helped to develop victim and witness support programs, established new crime prevention programs and administered citizen task forces on the problems of domestic violence, child abuse, drugs, juvenile crime and other important issues. During her tenure, Osterman helped to forge critical links between then State's Attorney Richard M. Daley and Chicago's gay and lesbian community.
Kathy Osterman was elected Alderman of the 48th Ward in 1987 where she was an active and effective representative of her constituents, among whom were many out, politically active gays and lesbians who were involved in all aspects of the community. She served on the City Council committees on Aging and Disabled, Capital Development, Economic Development, Education, Energy, Environmental Protection and Public Utilities, Consumer Protection, Beautification and Recreation, and Human Rights.
Osterman's position on the on that last committee, combined with her Roman Catholic background, gave her a unique entry into the political machinations surrounding the development of gay and lesbian rights legislation.
In 1989, she was appointed by Mayor Richard M. Daley to serve as the Director of the Mayor's Office of Special Events. In this role, she administered an agency that brings millions of dollars into the local economy each year. Osterman was responsible for the city's major music festivals, coordinated more than 70 neighborhood festivals, co-sponsored by the City, and operated the Taste of Chicago, the second-largest tourist attraction in Illinois.
An ebullient, optimistic, dynamic individual, Osterman was a fierce and outspoken lobbyist for the passage of Chicago's Human Rights Ordinance. She worked closely with gay and lesbian activists, helping formulate logistics. She personally introduced many of the key players to each other, and is also credited for developing the imaginative "bring in the nuns" strategy, calling on women of the cloth to lobby the large Roman Catholic bloc of aldermen within the City Council. The Human Rights Ordinance was passed in 1988, and Osterman considered this to be one of her greatest accomplishments in public life.
Thereafter, she used her office to assist gays and lesbians whenever possible. And, Osterman often represented Mayor Daley at fundraising events and other activities within our community.
On May 1, 1992, Osterman was married to Bruce DuMont, founder and President of the Museum of Broadcast Communications and host of the nationally syndicated radio program "Inside Politics." She was the mother of two sons, Harry Joe and Matthew. Kathy Osterman died of cancer on December 8, 1992.