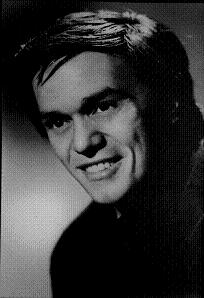 INDIVIDUAL | Inducted 1992 [Posthumous]
Dom Orejudos is widely recognized for his contribution to the arts, entertainment and the early participation in the development of a highly visible gay and lesbian business community in Chicago. He was an accomplished ballet dancer, choreographer, musician, artist and respected businessman. He was a dancer and choreographer with the Illinois Ballet Company for 15 years, a respected businessman, a major figure in founding the International Mr. Leather pageants, and an internationally known artist, famous for his male physique studies drawn under the name Etienne. Born in 1933, he died of AIDS complications in 1991.
While growing up in Chicago, Dom made his first appearance with the Illinois Ballet Company at the age of sixteen. From that age on, Dom devoted his talent and energies to the artistic expression of dancing. He danced roles, wrote and choreographed ballets and won nation-wide recognition and approval for his Emmy Award winning performances on public television.
During his association with Illinois Ballet Company, he danced and was he resident choreographer for 13 years. He choreographed over 26 ballets, including The Tin Soldier, The Firebird and Metamorphosis of the Owls. His choreography talents were sought for by ballet companies around the country and earned him critical acclaim. He was the recipient of three National Endowment for the Arts grands and was received three Emmy Awards. Dom was personally chosen to inaugurate the first color broadcast of Chicago's public broadcasting station with the presentation of his ballet, The Charioteer, in 1968.
Along with the development of his ballet and dance, Dom established a new and unique style in artistic expression with his depiction of the male model. He opened Kris Studios, with his partner Chuck Renslow, and published male photographic studies which were featured in many of the early magazines available in the gay community. His artistic talents in drawing were recognized all over the modern world under the pseudonym "Etienne". Dom shared his talent through philanthropic activities and the donation of his work to charitable endeavors. His art was contributed to many AIDS service providers and other organizations for fundraising purposes.
Along with his business partner, Dom was an early pioneer in the development of a strong and viable gay business community in the City of Chicago. Those business included the internationally known Gold Coast bar and International Mr. Leather. Other businesses included Man's Country, Zolar, Pyramid and Center Stage.