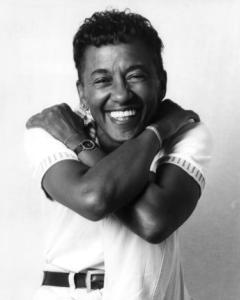 INDIVIDUAL | Inducted 1998 [Now Deceased]
Renae Ogletree engaged in wide-ranging volunteer and professional activities that brought people together around issues of diversity, development, and health care within Chicago's gay and lesbian communities. She was a health care activist, a professional youth services executive, and co-founded and co-chaired Chicago Black Lesbians and Gays. Self-described as "a bridge person between groups and individuals." s
Ogletree demonstrated her leadership talents by identifying, confronting, and helping to resolve issues concerning diversity in the planning and execution of AIDS Walk Chicago, and she organized educational conferences to create opportunities for others in her role as a board member of Yahimba, a networking organization for lesbians of African descent. She also participated in the National Black Lesbian and Gay Leadership Forum and on the Chicago Police Department's 23d District Gay and Lesbian Advisory Committee.
Ogletree cofounded and co-chaired Chicago Black Lesbians and Gays, an organization that aims to make lesbian and gay Chicagoans more visible in the city's African American community. She played an active part in planning the Unity Conferences that have been held since the group's inception. After recognizing a need to establish a safe, supportive environment in which lesbian, gay, bisexual, and transgendered Chicagoans could discuss issues of race and class, she also served as a founding member of The Color Triangle. She served as an organizer of the annual Pride Sunday event at Chicago's Belmont Rocks, where thousands of lesbian, gay, bisexual, and transgendered African Americans gathered to celebrate strength and unity.
As a health care activist, Ogletree confronted issues of class, race, and sexual orientation. For example, she brought black churches into discussions on homophobia and HIV and AIDS. She served on the Lesbian Community Cancer Project board of directors, helping to ensure a supportive environment for lesbian health care.
Professionally, Ogletree had more than 30 years of leadership experience in serving youth and has done so through the Boys and Girls Clubs of Chicago, the Better Boys Foundation, and Chapin Hall Center for Children. She was executive director of the Chicago Youth Agency Partnership. She helped to open a shelter for homeless youth, consulted with the Chicago Park District on services infrastructures, and conducted research and grants work for the Chicago Community Trust.
Ogletree led a YouthMapping project, in which gay and lesbian youth aged 14 to 23 from Horizons Community Services' Youth Services program joined youth from five other Chicago-area programs to canvass Chicago neighborhoods in order to identify and document businesses, services, and programs of value to youth. The program was a first and produced a database for use in city and service organization planning. Ms. Ogletree passed away on April 23, 2010, after a long battle with cancer, she was 59.