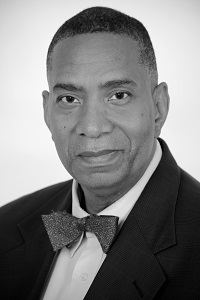 INDIVIDUAL | Inducted 2015
As an openly gay African-American, Michael O'Connor has contributed a great deal to the lives of LGBT Chicagoans and the citizens of Illinois. Three decades ago, on black talk radio, he began a conversation about LGBT issues that continues to the present. In 1986, he appeared on radio station WVON's premier political broadcast, countering the anti-LGBT rhetoric of some of the city's most powerful black luminaries. In 1993, he was instrumental in securing a place for openly LGBT Chicagoans to march in the city's annual Bud Billiken Day Parade. Just one year later, he played a crucial role in negotiations between activists and the National Black United Front that ultimately won a place for LGBT marchers to participate in the annual African Liberation Day Parade on the city's West Side.
In 1998, O'Connor co-founded the Rocks Coordinating Committee (RCC), which was the first 501(c)3 nonprofit of its kind to sponsor a culturally specific Pride event in Chicago. This all-volunteer organization sponsors the largest and oldest one-day HIV/AIDS outreach event in the U.S. O'Connor introduced the tradition of being "more than a party" to the thousands of LGBT persons from historically underserved communities who annually attend "Rocks PRIDE" and enjoy free access to social service and health care providers who offer health education and testing.
While serving as public policy chairman for the Chicago Black Gay Men's Caucus in 2006, O'Connor organized a town hall forum on the impact of HIV/AIDS on gay men of color. "Black, Gay, & Dying" was part of the annual State of Illinois Town Hall for the Seventh Congressional District; the event gained national media attention, including coverage by National Public Radio's "All Things Considered."
As a legislative staffer in 2007, O'Connor co-authored the first bill in the U.S. to provide an independent revenue stream for HIV/AIDS service providers, resulting in the "Red Ribbon Cash" lottery ticket. This lottery fund continues to raise millions of dollars each year, providing critical funding for numerous HIV/AIDS prevention, research, and outreach services for Illinois residents who are affected by HIV/AIDS. In addition, while serving as former State Representative Constance "Connie" Howard's aide, O'Connor organized and led a small group of volunteers in a grassroots statewide effort that resulted in landmark changes in the state's criminal code. The General Assembly's passage of "Second Chance" legislation has been of enormous significance to citizens of the city and state, especially those in economically disadvantaged areas. As a result, each year, LGBT Chicagoans and others participate in the Center on Halsted's organizational and educational outreach event, where expungement, sealing of criminal records, and executive clemency information is provided to hundreds of mostly LGBT youth and adults.
Michael O'Connor has a long track record of organizing at the grassroots level around a variety of progressive legislative issues in Springfield; his effectiveness in advancing legislative initiatives that continue to improve the quality of LGBT lives in Chicago and beyond has made an incalculable difference. (Note: information listed has not been updated since the member's induction).