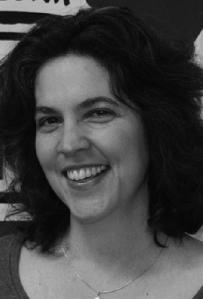 Photo by: Ross Furman/Windy
City Times
INDIVIDUAL | Inducted 2010
An award-winning author, journalist, and political activist, Achy Obejas was born in Havana, Cuba, in 1956. She came to the United States at the age of 6, after the Navy plucked her from a 28-foot boat that was adrift in the Atlantic Ocean with her family and 40 other refugees on board. Her family moved from Miami to the Midwest, and Obejas arrived in Chicago after graduating from college in 1979.
Obejas began her journalism career at the Chicago Sun-Times in 1981. From 1996 to 2002, she was a staff writer for the Chicago Tribune. She has also written for several local publications—Windy City Times, the Chicago Reader, and The Chicago Reporter—and served as a stringer for The Washington Post, The Advocate, and Ms. magazine. She is the recipient of numerous awards, including a shared Pulitzer Prize in 2001 and the Studs Terkel Community Journalism Award in 1996.
As an activist, Obejas was appointed by Mayor Harold Washington to the city's first Committee on Gay and Lesbian Issues and by Mayor Eugene Sawyer to the Advisory Council on Gay and Lesbian Issues. She worked with mayoral liaison Jon Simmons, the "Gang of Four," and other community groups to secure passage in 1988 of a historic human-rights ordinance to prohibit sexual-orientation discrimination. Bilingual, she lobbied extensively among Latino aldermen and their constituents to gain their support for the ordinance.
Obejas is the author of several works of fiction, nonfiction, and poetry. Her first books, "We Came All the Way From Cuba So You Could Dress Like This?" and "Memory Mambo", were published by a lesbian press. Later works, such as her critically acclaimed novels "Days of Awe" and "Ruins", were published by mainstream presses. Her books have received numerous awards, including Lambda Literary Awards, and her creative writing achievements have secured teaching positions at the University of Chicago, Roosevelt University, the School of the Art Institute of Chicago, Northwestern University, the University of Illinois at Chicago, and, most recently, the Sor Juana Inés de la Cruz chair at DePaul University.
As a writer, activist, and Cuban American, Achy Obejas has consistently presented herself as an out lesbian. Her accomplishments and achievements have added stature to Chicago's LGBT community. (Note: information listed has not been updated since the member's induction).