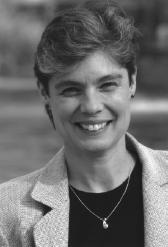 INDIVIDUAL | Inducted 2002
As an activist since the 1970s, Mona Noriega developed programs to serve lesbian mothers and their families, organized programs for Latina lesbians and other lesbians of color, helped to open Lambda Legal Defense and Education Fund's Midwest Office, served as a business consultant, and co-chaired an effort to bring the 2006 Gay Games to Chicago.
At a time when being a lesbian and a mother often meant a custody challenge, she organized a safe space for lesbian mothers, their children, and their women partners. It offered picnics, camping trips, occasional protests, and Mother's Day parties. In the 1980's and with printing skills in tow, Noriega began to publish chapbooks for lesbians of color and was instrumental in initiating the first lesbian-of-color performance at Mountain Moving Coffeehouse. In 1990, as a member of a Latina lesbian group, Noriega was a co-founder of Chicago's annual International Women's Day dance. She joined Lambda Publications in 1991.
In 1993, Noriega helped to open the Midwest Regional Office of Lambda Legal Defense and Education Fund. Based in Chicago, the office advances civil rights of lesbian, gay, bisexual and transgender persons and of persons living with HIV or AIDS throughout eight states. She recently returned to the office and is now its regional director.
In 1995, Noriega helped to convene Amigas Latinas, a lesbian organization committed to empowering and educating Chicago-area Latinas, and she continues to serve it as a steering committee member.
She holds a bachelor's degree from Northeastern Illinois University. After a hiatus during which she earned an M.B.A. degree in marketing and strategic planning from the University of Illinois at Chicago, she immediately returned to community activism and helped in the merger of Windy City Times and Outlines under Lambda Publications ownership. She is now assistant publisher at Windy City Media Group (as the company is known today).
She also became founding co-chair and senior bid consultant for Chicago 2006, Inc., in an effort to bring the Gay Games to Chicago. Drawing on her years of public relations, marketing, and activism experience, she mobilized community support for the Games bid, identifying hundreds of volunteers, raising thousands of dollars, and partnering with government. Her marketing background has included work for the Chicago Park District's Garfield Park Conservatory and the Institute for Public Safety Partnerships, a federally funded regional community policing group based at the University of Illinois at Chicago. Noriega's other organizational involvements have included Affinity Community Services, the Lesbian Community Cancer Project, the Girl's Best Friend Foundation board, the National Society of Hispanic MBAs, and Horizons Community Services' Community Leadership Council. (Please note: this information has not been updated since the time of the member's induction).