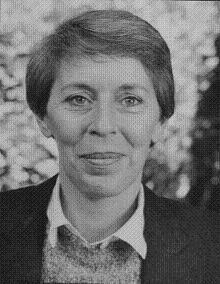 FRIEND OF THE COMMUNITY | Inducted 1996 [now deceased]
A civic artist and tenacious advocate for gay and lesbian Chicagoans since the early 1970s, this "Friend of the Community" lobbied for human right ordinances, for a mayoral liaison and committee on gay and lesbian issues, and for an increased AIDS budget. She led the Lake View Citizens' Council's board in support of domestic partnership ordinance in 1996. For more than 20 years she has urged and actively backed gay and lesbian political participation.
Since the early 1970s, Charlotte Newfeld has been a vocal friend to gay and lesbian Chicagoans.
Newfeld's significant contributions to our community have included her advocating for appointment of a mayoral liaison and her active lobbying to secure passage of Chicago's human rights ordinance, which prohibits discrimination because of sexual orientation.
She helped establish the Lesbian and Gay Town Meeting in the mid-1980s to press for human rights ordinance passage, and later she lobbied for Chicago's hate crimes ordinance and the Cook County human rights ordinance, all of which include sexual orientation as a protected class.
During the early 1970s, through articles she published in GayLife, Newfeld had encouraged gay and lesbian Chicagoans to participate in the political process. This, of course, was before 1977, when gay and lesbian political activism developed a new head of steam in reaction to Anita Bryant's "Save Our Children" campaign.
In the late 1970s, Newfeld supported Chicago's first openly gay male candidates for public office (Grant L. Ford and the late Gary Nepon). When running for a City Council seat in 1982, she was one of the first candidates to hire openly gay campaign staff and seek gay and lesbian volunteers. In fact, she held her primary victory party in a lesbian and gay bar (His 'n Hers) and publicly thanked lesbian and gay voters, which was uncommon in those days.
As vice-chair of the City's Commission on Women, Newfeld lobbied for open lesbian representation. That resulted in the appointment of Sarah Craig to the commission. During the same period, Newfeld also urged Mayor Harold Washington to establish a Mayor's Committee on Gay and Lesbian Issues. That body was the forerunner to the present Chicago Commission on Human Relations' Advisory Council on Gay and Lesbian Issues.
Newfeld has also lobbied for increased funding of the city's AIDS services and education budget. She organized community support and hearings regarding sting operations against gay and lesbian bars, and she worked for Larry McKeon in his historic, successful run for 34th District Illinois state representative in the 1996 Democratic primary election.
Charlotte Newfeld's contributions to gay and lesbian Chicagoans have not been short-lived. She has been a tenacious advocate for all of our rights for more than 30 years. Today, her contributions are given the community recognition that they deserve.