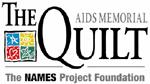 ORGANIZATION | Inducted 2002
Since being formed in the wake of Washington's 1987 AIDS Memorial Quilt display, Chicago's NAMES Project chapter has been a Quilt custodian and has brought its message to schools, churches, and other venues during the continuing battle to bring an end to AIDS.
After an overwhelming response to the AIDS Memorial Quilt's 1987 display on the National Mall in Washington, the NAMES Project's volunteers took the Quilt on a 21-city national tour. Chicago was one of the host cities. As a result, the NAMES Project Chicago Chapter was formed as an independent affiliate of the national project. It coordinated Chicago's viewing of what was at once a great ongoing community arts project and a powerful political response to the AIDS challenge.
Since its inception, the NAMES Project Chicago Chapter has been the local trustee of thousands of distributed panels of the Quilt and continues to exhibit Quilt panels in large numbers or intimate displays at local schools, churches, and other venues. For more than a decade, the Chicago Chapter's aim has been the same: to see the end of AIDS.
It is said to be the only NAMES Project chapter in the nation that is solely volunteer-oriented. Community members have contributed to Quilt displays ranging from Navy Pier's 2001 show of more than 2,000 panels to local high schools' HIV/AIDS education initiatives. The chapter has created a speakers bureau comprising culturally diverse representatives who speak from their personal experiences with the Quilt. In addition, a Youth Council was created to meet the interest of teenagers who want to "do more" after viewing the Quilt and hearing its stories.
The perseverance of the Chicago Chapter has helped to create a standard for HIV/AIDS education and has been recognized by the national NAMES Project Foundation for innovation. Quilting bees and weekly quilting workshops continue to provide comfort and creative inspiration for those personally affected by losses to AIDS. The Quilt persists as a historical document and a sign of commitment to fight AIDS. (Please note: this information has not been updated since the time of the organization's induction).