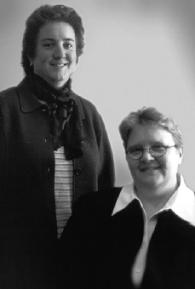 ORGANIZATION | Inducted 2004
In 1989, Mary M. York and Rosemary Mulryan formed one of the first lesbian-owned law firms in Chicago. It became highly visible while the firm continuously dedicated time, energy, and resources to serving the LGBT community. (Photo standing Mulryan; seated York) Chicagoans have benefited from having such an openly lesbian and expert resource available to handle the range of legal issues that sometimes confront them, especially those that may be specific to their sexual-minority identities.
The common thread in Mulryan and York's history of service was to protect the integrity of LGBT families, relationships, and institutions. In a seamless progression from professional to personal service, the two partners donated time and expertise, speaking on topics ranging from estate planning to adoption before numerous community organizations, such as Affinity Community Services, Amigas Latinas, Dignity/Chicago, Kinheart Women's Center, Howard Brown Health Center, and Rainbow Families of Illinois. Besides advocacy, the partners served as role models for aspiring lawyers, speaking often to law students and recent graduates to help them in shaping their careers.
York served on boards of the Heartland Alliance for Human Rights and Needs and the Lesbian Community Cancer Project. In September 2004, was president of the LCCP board. For years, she provided legal services without charge to such organizations as Gerber/Hart Library, Horizons Community Services, Mountain Moving Coffeehouse, and LCCP. Chicago attorney Mary York died Jan. 23, 2008, after a long battle with renal cancer. She was 52.
Mulryan has focused much of her practice on developing legal protections for LGBT families. She was co-counsel with Lambda Legal Defense and Education Fund in the precedent-setting case In re K.M., 653 N.E.2d 888 (Ill. App. Ct. 1995), in which the court held that the state Adoption Act does not exclude unmarried individuals from adopting children together, thereby allowing same-sex couples to adopt. Mulryan is a past board member and board president of Gerber/Hart Library. She is a past board member of Sarah's Circle, a drop-in shelter for homeless women in Uptown. She has also co-chaired numerous benefits for community organizations such as Lambda Legal Defense and Education Fund and Equality Illinois. (Please note: information on Ms. Mulryan has not been updated since the time of the member's induction).