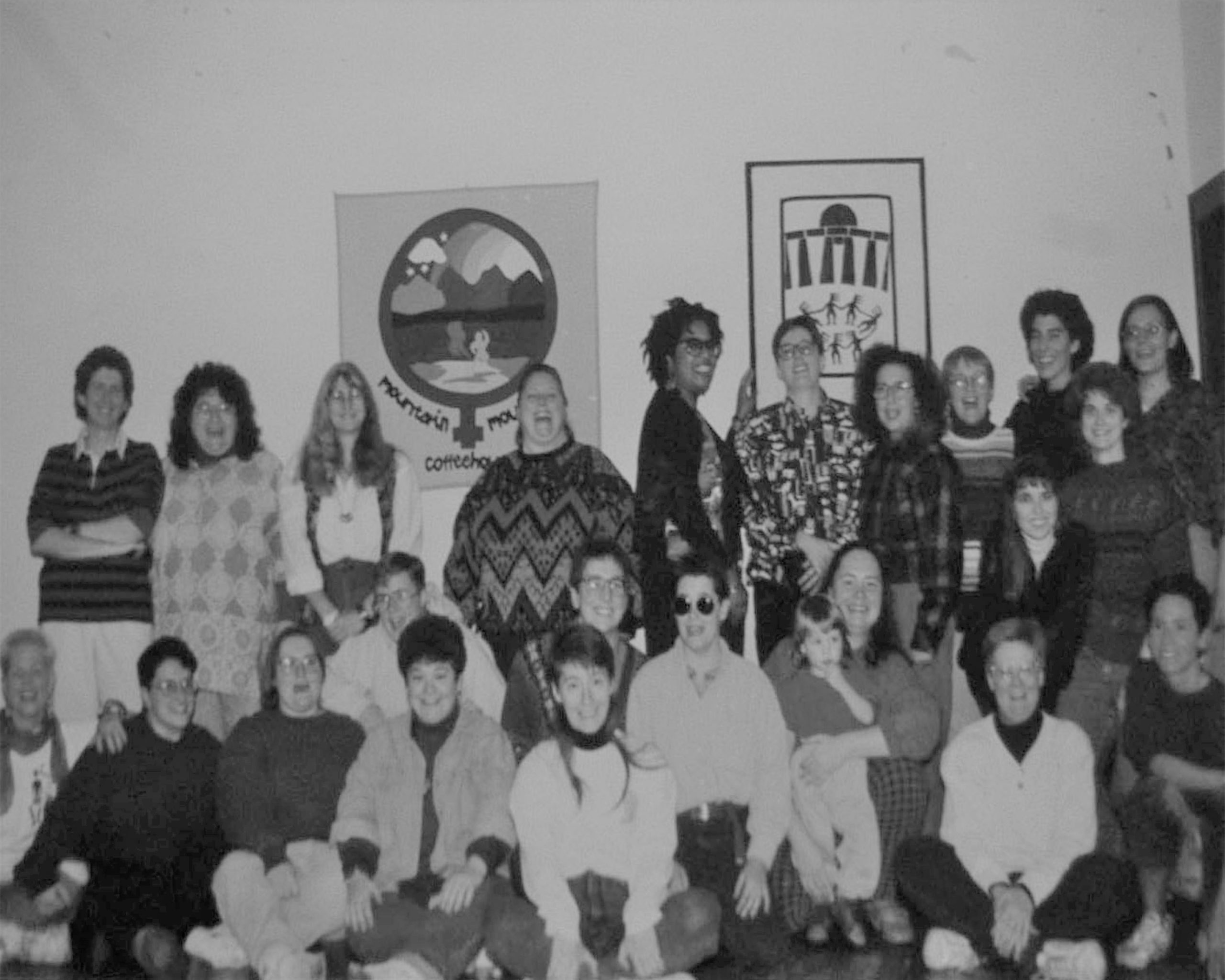 ORGANIZATION | Inducted 1993 (Closed in 2005)
It was the oldest continuously running, women-only space in the nation. For more than 25 years, Mountain Moving Coffeehouse for Womyn and Children presented lesbian-feminist-orientated culture and music. The collective was operated totally by volunteers and open to any woman who wished to participate. It is a not a not-for-profit organization. The Coffeehouse began in November 1975 as a social alternative to the bars, and to provide a safe, women-only, chemical and alcohol-free meeting space for all women. Operating for almost 40 years, it was the oldest continuously-running women-only space in the country until its closing in 2005.
Producing between 30 and 50 events a year over the course of its history, Mountain Moving Coffeehouse presented a wide variety of programming reflecting the diversity, depth, and richness of lesbian culture and music. Although it was a lesbian-feminist-oriented coffeehouse, the contributing members and friends who devoted their energies and talents to MMCH held no specific political stance as a group; because of this, the Coffeehouse was able to present entertainment, forums, and discussions that touched upon almost every aspect and issue within the lesbian community.
Mountain Moving Coffeehouse actively solicited asuggestions and criticisms from the lesbian and women's communities. All Saturday evening programs and monthly meetings were open to any woman wishing to participate. The Coffeehouse was always working to improve its services, skills, productions, and equipment. It relied completely on the volunteer labor of members and friends to carry out the enormous tasks involved in producing regular community events. In doing so, it provided lesbians with leadership and technical skills and recognition in the community.
The Coffeehouse also provided women performers with the opportunity to reach and develop a broader audience; several performers built their reputations and careers through their exposure at Mountain Moving Coffeehouse. In fact, most of the performers who are known in the women's music and comedy circuit today played at the Coffeehouse, including Ferron, Karen Williams, Tret Fure, the Topp Twins, Dos Fallopia, Kay Gardner, Toshi Reagon, Casselberry-DuPree, and many others. Admission was always by suggested donation, and no woman was ever turned away because of inability to pay.