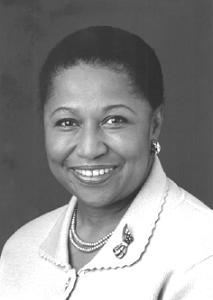 FRIEND OF THE COMMUNITY | Inducted 2007
Ambassador Carol Moseley Braun has been a prominent supporter of LGBT rights and marriage equality throughout her political career. In 1992, as the first African American woman ever elected to the U.S. Senate, she became the first senator ever to appoint an LGBT liaison. While in the Senate, she staunchly opposed the U.S. military "Don't Ask, Don't Tell" policy when many others were willing to accept the policy as a compromise.
Braun has enjoyed a long and active career in and out of political office, locally and nationally. She served as assistant U.S. attorney for the Northern District of Illinois from 1973 to 1977 and spent the next 10 years as a member of the Illinois House of Representatives. From 1988 to 1992 she served as the Cook County recorder of deeds.
In the wake of the 1991 controversy over the appointment of Clarence Thomas as a U.S. Supreme Court justice, she decided to make her ground-breaking run for the U.S. Senate. She bested both a popular incumbent and a second male opponent to become the Democratic Party's nominee and then went on to win the 1992 general election. This catapulted her to national and worldwide recognition.
After her defeat in the November 1998 Senate race, she served as a consultant to the U.S. Department of Education and then as ambassador to New Zealand and Samoa from 1999 through 2001. Since leaving public service, Braun has taught business law and political science at Morris Brown College in Atlanta and DePaul University's Kellstadt Graduate School of Business in Chicago, pursued business interests and her law practice, served on corporate boards, and received numerous honors and awards.
In 1993, as the Senate debated President Bill Clinton's abortive effort to end the long-standing ban on gay and lesbian military personnel, Braun cast one of only 12 votes against the law that put "Don't Ask, Don't Tell" into effect. She supported hate crimes legislation and the Employment Non-Discrimination Act, both of which have yet to become law, and was a consistent and vocal supporter of marriage rights, believing that LGBT Americans have a fundamental right to marry the persons they love. When the so-called Defense of Marriage Act was approved by the Senate, she and her Illinois colleague, the late Sen. Paul Simon, cast two of the only 14 votes against it.
For her ongoing committed efforts in behalf of the inclusion of LGBT rights in a broader vision of human rights and democratic participation in American politics, for her consistent support of issues central to LGBT communities in Chicago and beyond, Carol Moseley Braun has been selected as a historic "Friend of the Community." (Note: information listed has not been updated since the member's induction).