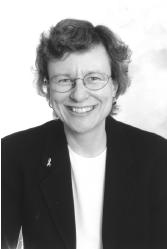 Photo by: Catherine Sikora
INDIVIDUAL | Inducted 2001
As an LGBT political organizer and deputy director of intergovernmental affairs for Illinois Secretary of State Jesse White, Ellen Meyers has spent more years in supporting human rights laws, persons affected by HIV/AIDS or aging, and electoral involvement. She is a longtime and active member of Chicago's lesbian and gay community. A native of Maryland, she was deputy director of inter-governmental affairs for Illinois Secretary of State Jesse White.
That appointment made her the highest-placed open lesbian in the executive branch of Illinois state government. It followed White's 1999 post-election announcement that he would appoint her his liaison to the state's LGBT community. Previously she served as liaison for lesbian and gay issues in the Cook County state's attorney's office. Dorothy Brown, who was elected clerk of the Cook County Circuit Court in 2000, also appointed Meyers as co-chair of the Public Policy Subcommittee of her Transition and Strategic Planning Committee.
Meyers is currently in her fourth term as chair of the board of directors of Equality Illinois, the statewide LGBT civil rights organization. She also serves on the group's political action committee and is heavily involved in efforts to pass a statewide LGBT rights bill. She is a consultant on LGBT issues to several elected and appointed officials.
She is a founding member of Horizons Community Services' Lesbian and Gay Aging Task Force. As part of the struggle against AIDS, she has been a volunteer with Open Hand Chicago for more than 10 years and has been recognized with the 1999 Good Samaritan Award from Samaritan Housing Services, an agency serving persons with AIDS on Chicago's South Side and in its south suburbs. She was also recognized with the 2001 President's Award from the Greater Chicago Committee.
Meyers is an award-winning filmmaker and a published author. She holds a bachelor of arts degree from Lawrence University and a master of arts degree from Columbia College. She was also a National Endowment for the Arts fellow. (Please note: this information has not been updated since the time of the member's induction).