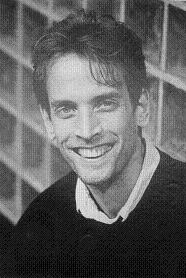 INDIVIDUAL | Inducted 1992 [Now Deceased]
One of the first openly gay, HIV-positive American artists, a renowned playwright and accomplished actor. Scott McPherson, was the author of the critically acclaimed play Marvin's Room, later made into a film. Born in 1959, he died of AIDS complications in 1992.
His award-winning play, "Marvin's Room", is regarded as one of Chicago's most vital artistic and creative forces. Amidst the homophobia and AIDS hysteria that gripped the nation, He has spoken eloquently, both in his writing and in interviews, of the personal and familial ravages of chronic illness and the need for loving support and connection with lovers, family and friends.
McPherson was born in Columbus, Ohio, and raised, along with seven siblings, in a devout Roman Catholic home. He acquired his great love for literature in his youth. He began acting in high school and attended Ohio University where he majored in theater and dance. An early one-act version of his first play, '"Til the Fat Lady Sings", was first produced at Ohio University. It was later produced in Chicago by Lifeline Theatre under the direction of Eric Simonson. Ohio University named a new theater space in McPherson's honor.
McPherson moved to Chicago in 1981 and was cast regularly in local theatrical productions, commercials and industrial films. His work as an actor included performances in "The Shrew", "Butler County", G"entrification", "Expectations", "The House of Blue Leaves", "The Normal Heart" and many others.
"Marvin's Room", first produced by the Goodman Theatre in 1990, has also been produced at Hartford Stage in Hartford, Connecticut, Playwrights Horizon and Minetta Lane Theatre in New York City, and at Kennedy Center for the Performing Arts in Washington, D.C. The play has received the Drama Desk Award, the Oppenheimer Award, the Obie Drama Award, the John Whiting Foundation Award for Writing, and the Outer Critics Circle Award. It was later made into a motion picture starring Meryl Streep, Leonardo DiCaprio, Robert De Niro, Diane Keaton, and Hume Cronyn.
In spite of variable and increasingly failing health, and the illness and recent death of his lover, Daniel Sotomayor, McPherson had completed two commissioned screenplays and was working on a new play until shortly before he died in Chicago on November 7, 1992.