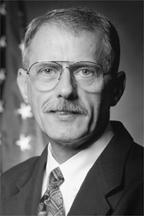 INDIVIDUAL | Inducted 1997 [Now Deceased]
Larry McKeon made a historic, indelible mark on Chicago politics in 1996 by winning an Illinois House of Representatives seat as the state's first openly gay or lesbian state legislator. Before that, he served effectively as director of the city's Advisory Council on Gay and Lesbian Issues, held leading positions in social service administration, and was a police officer.
Through his 1996 election as state representative from the North Side's 34th District, McKeon became Illinois's first openly gay or lesbian state legislator. And he did it by appealing to a broad spectrum of interests—traditional and more independent political powers, community groups of all stripes, and voters of every variety, including but certainly not limited to lesbian and gay voters.
In the House of Representatives, he was a member of committees on Aging, Criminal Law, Health Care Availability and Access, Higher Education, and Labor and Commerce and of the Task Force on Mental Health and Patient Abuse.
Before election to the House, he served with distinction as director of the Chicago Commission on Human Relations' Advisory Council on Gay and Lesbian Issues (ACGLI). In that role, he also functioned as Mayor Richard M. Daley's liaison to gay and lesbian Chicagoans. He advised city government officials about matters with a gay and lesbian impact, he advocated for gay and lesbian human rights, and he mediated conflict involving access to city government and its services–often working days and evenings, seven days a week.
Prior to his ACGLI service, McKeon was director of information systems and services and a research associate for United Charities of Chicago. Before that, he was an instructor in the public administration program at Chicago's Roosevelt University, concentrating in criminal justice policy and management.
Prior work included positions as a juvenile justice research project specialist at the University of Chicago, as assistant dean of that university's School of Social Service Administration, as a criminal justice policy research project director at the University of Southern California's Social Science Research Institute, and as a sociology lecturer at California State University, Los Angeles.
Early in his career, McKeon was an honorably discharged Army first lieutenant and a member of the Los Angeles County Sheriff's Department, where he reached the rank of lieutenant and was successively a patrol officer, supervisor investigator, watch commander, and director of news media and public relations.
McKeon received his degree as bachelor of arts in political science in 1975 from California State University, Los Angeles, and his degree as master of science in public administration in 1978 from the same institution. He completed Ph.D. coursework and examinations in the University of Chicago's School of Social Service Administration. He was honored by the Human Rights Campaign (1994), IMPACT Illinois (1997), and Dignity/Chicago (1997). He passed away on Tuesday, May 13, in Springfield, IL., he was 63.