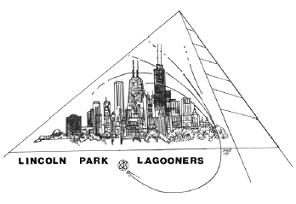 ORGANIZATION | Inducted 2004
Lincoln Park Lagooners (LPL) was active for more than a quarter-century and hosted many fund-raisers benefiting AIDS and other charitable organizations in the Chicago area. The group was one of Chicago's oldest, continually operating LGBT social organizations, counting a membership of nearly 300. LPL was formed by a group of volleyball players who met regularly at Lincoln Park's North Pond ("the lagoon") and were committed to social interaction, organized activities, and charitable fund-raising.
It was incorporated in 1977 as a nonprofit social club, offering LGBT Chicagoans an alternative to commercial nightlife and an organization that promoted camaraderie and an opportunity to form lasting and meaningful relationships. For some, LPL became a surrogate family. The group's fund-raising record dates back to the 1970s with large social events at the Aragon Ballroom and the Broadway Armory. Thousands attended these events, which were the first of their kind locally and a precursor to large party benefits of today.
Over the years, LPL contributed thousands of dollars to such organizations as Howard Brown Health Center; Test Positive Aware Network; Gay, Lesbian and Bisexual Veterans of America; Stonewall Foundation; Open Hand Chicago; Lesbian Community Cancer Project; AIDS Living Remembrance Project; NAMES Project; Gerber/Hart Library; and Bonaventure House.
LPL offered Chicagoans a variety of social activities, including several camping trips and a whitewater rafting trip each year, sponsorship of a softball team, its own bowling league, a winter ski trip, card and game nights, picnics, annual membership and holiday parties, and several others throughout the year. The group disbanded in 2016.