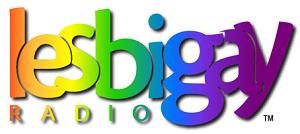 ORGANIZATION | Inducted 1998
Founded by Alan Amberg, for more than 5 years LesBiGay Radio was unique for presenting a Chicago-area broadcast serving a lesbian, gay, bisexual, and transgender audience. It was the nation's first such show in a daily drive-time slot. It launched many service projects, helped publicize the activities of all community sectors, and achieved wide local and national recognition. After years of unique broadcasts on various Chicago radio stations, LesBiGay Radio offered air time to "every lesbigaytrans voice from all organizations in the Chicago area" and to help bridge gaps among the region's diverse communities.
Launched in June 1994, LesBiGay Radio educated, entertained, and enriched its listeners' lives with information on arts and literature, health, and social service issues. Though there are some 80 gay radio shows in North America, none other has been as comprehensive, convenient, or successful.
It began as a two-hour Sunday-morning show on WCBR, an Arlington Heights, Illinois FM station. Eighteen months later, it moved to WNDZ (750 MHz) for a stronger signal and a daily, morning-commute time slot. The show then aired during the evening drive time from 5 to 7 p.m. Monday through Friday; on WSBC (1240 MHz) by North Side listeners and on WCFJ (1470 MHz) by those on the South Side.
LesBiGay Radio's staff produced 260 shows a year locally, for an average of 10 to 15 hours per week. It offered a mix of general news, traffic, and weather reports; interviews, music, and educational segments; and news of local and national gay and lesbian events. Listeners ranged from Milwaukee, Wisconsin to Bloomington, Illinois, and from Joliet, Illinois to Kalamazoo, Michigan. The show boasted documented listenership in at least 35 of Chicago's zip code areas as well as in other parts of the metropolitan region.
In March 1996, LesBiGay Radio became the first gay business to advertise openly on outdoor billboards in six North Side neighborhoods. It generated hundreds of calls to state legislators on a bill to ban same-sex marriages and sent its own lobbyists to oppose the bill. It produced live broadcasts at Chicago street festivals, offered the first daily gay and lesbian coverage from both major political parties' 1996 national conventions, covered the 1998 World AIDS Conference in Geneva, Switzerland, placed newspaper ads countering anti-gay radical right ads, and ran paid ads for the show itself on general-audience radio and television stations. LesBiGay Radio also sponsored community town-hall meetings and cosponsored numerous local special events. With foundation support, it funded several community empowerment projects, including a series of forums under the name "The Color Triangle: A Different Look at Racism in Our Community." National media coverage was often resulted from the show's groundbreaking activities.
In a short period of time, LesBiGay Radio and founder Alan Amberg made national media history while offering Chicagoans a wealth of information and entertainment in an unprecedented format. LesBiGay Radiio signed off the airwaves on Friday, April 27, 2001, just one month shy of its 7th anniversary.