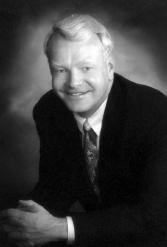 INDIVIDUAL | Inducted 2001
As philanthropist, fund-raiser, and board member, Michael Leppen has provided leadership and financial support for a large variety of nonprofit organizations in the Chicago area and elsewhere, many of them serving sexual-minority communities with regard to concerns such as HIV/AIDS, lesbian health, youth work and mass media. His contributions have been made unselfishly, without regard to faction, and with a focus on the positive effects of actual work being done. Leppen co-chairs gala committees for Equality Illinois and for the Desert AIDS Project of Palm Springs, California.
He has been a generous contributor and consultant to Chicago's Lesbian Community Cancer Project. For the past eight years, he has helped the fight against AIDS by serving on the Dance for Life benefit committee, which he co-chaired for a year. Other current Chicago involvements include Episcopal Charities and Community Services' Bishop Anderson House and Chase House.
In Palm Springs, he is also active with Gay Associated Youth and is an adviser to the AIDS Assistance Program. In New York, he helps to advise 'In the Life', the national television news magazine covering gay and lesbian issues and culture.
One especially significant Leppen activity is his role as an underwriter of About Face Youth Theatre and as a board member of About Face Theatre. Since the Youth Theatre program was founded in 1999, he has instituted three Youth Theatre challenge grants, which were estimated to have raised $120,000 by the end of the most recent season. Besides philanthropy, Leppen conceived and facilitated coverage of the Youth Theatre in 1999 by 'In the Life,' has arranged the group's annual Pride Parade floats and t-shirts, and has encouraged a Youth Theatre national expansion. He has also recruited other About Face board members, donors, and volunteers.
In past years, Leppen has also co-chaired AIDS Foundation of Chicago's "Not Just Song and Dance" benefit, co-chaired and served on a board for Bonaventure House's annual "Jubilate" benefit concerts, and co-chaired Episcopal Charities' dinner dance. Besides personal involvements, his financial contributions have been of major assistance to a wide spectrum of arts, human rights, and political activities.
His efforts have been honored by awards from the Chicago NAMES Project, Human Rights Campaign, and About Face Theatre. In recognition of his consistent contributions to social welfare, he is now a member of the Gay and Lesbian Hall of Fame. (Please note: this information has not been updated since the time of the member's induction).