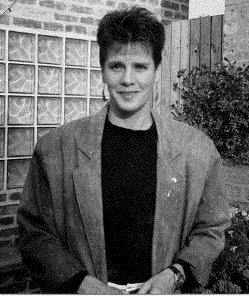 INDIVIDUAL | Inducted 1993
A leader in the movement to combat violence against women and to promote their self-defense, Nancy Lanoue herself a survivor, she has also been a major leader in education, outreach, and service delivery for survivors of breast cancer. Lanoue began her professional career as a reporter for the New York Post and the Reader's Digest Press, but by 1979 she had turned her full attention to the area of martial arts. She founded the Safety Fitness Exchange [SAFE], New York City's first community-based organization specializing in women's self defense and rape prevention.
In January 1984, Nancy Lanoue moved to Chicago with her partner, Jeanette Pappas, with a goal of purchasing a building and opening therein a gym and self-defense training center for women. The two women spent their first year here establishing connections, looking for a suitable location, and laying the groundwork for The Women's Gym. Opened at 1212 West Belmont in August, 1985, their business became as one of the very few gathering places — outside of the bars — for lesbians. In the years that followed, Lanoue battled breast cancer and both women dealt with Pappas' cancer, something which led to the closing of The Women's Gym during the summer of 1989 as they pursued treatments for Pappas' condition. Pappas died in October, 1989, but not before breaking the silence in Chicago's lesbian community surrounding cancer. Lanoue carried on the message that Pappas voiced, providing information and support to newly-diagnosed women.
During the spring of 1990, about six months after Pappas' death, Lanoue and Sarah Ludden opened Thousand Waves as a martial arts and self-defense training center for women and children.
Continuing to make herself available to women with cancer, Lanoue realized that many more women were approaching her for information and support. In October, 1990, Lanoue was the impetus behind the first gathering of lesbians in Chicago concerned about cancer and following several meetings, the Lesbian Community Cancer Project (LCCP) was created. Armed with Lanoue's personal experience and nitty-gritty, practical approach to the issues facing women with cancer, LCCP's services were defined and initiated: one-on-one "buddy" support from a woman who has herself dealt with the disease and who can provide information not readily available from the medical establishment; a support group for women with cancer or cancer histories; direct, practical support; and massage therapy. Although the scope of support and educational services has expanded, they reflect Lanoue's empowering approach to confronting cancer.
Lanoue is a fourth-degree Black Belt, and she holds a Master of Arts in International Affairs. She is also a six-year survivor of breast cancer and the Board President of the Lesbian Community Cancer Project. Lanoue wrote a chapter, "Fighting Spirit" in Third Side Press' Cancer as a Woman's Issue [1991]. She is a member of the National Women's Martial Arts Federation, teaching martial arts and self-defense at the organization's annual national training camp. She has been interviewed by QW, the Chicago Reader, and the Chicago Tribune, to name a few. Lanoue was honored by Sculpture Chicago in June, 1993 with a Rock Monument. (Please note: this information has not been updated since the time of the member's induction).