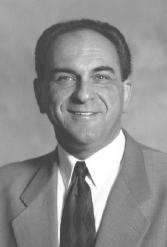 FRIEND OF THE COMMUNITY |  Inducted 2002
Ever since he was first elected to the Illinois House of Representatives in 1987, Lou Lang has distinguished himself by his attention and commitment to human rights and human welfare. For this and for his support of AIDS funding an of laws against hate crimes and sexual-orientation discrimination, he was chosen as a "Friend of the Community".
His legislative career has consistently found him championing issues related to labor, senior citizens, education, and human rights. In 1990, Lang was a sponsor of a hate crimes act that, unlike those in some other states, imposed penalties for crimes related to sexual orientation. In 1993, he was chief sponsor of the first gay-inclusive civil rights bill ever to pass in the Illinois House. He worked behind the scenes for its support, lobbying fellow legislators to make that historic event happen. Though the bill later died in a Senate committee, its House passage made the political establishment take note of the growing lesbian, gay, bisexual, and transgender (LGBT) voting bloc. When the bill again passed in the House in 2001, Lang spoke eloquently on the House floor for its adoption and once again worked behind the scenes to obtain the necessary votes.
In 1995, Lang was co-sponsor of an AIDS drugs reimbursement emergency funding bill, and since 1997 he has been responsible for more than $1.3 million in legislative grants to numerous LGBT-supportive health and arts programs. In 2000, he received the annual Food for Life award from Open Hand Chicago for his sponsorship of $1 million in state grants for HIV/AIDS nutrition programs. The AIDS Foundation of Chicago also honored him in 2000 for his leadership on HIV/AIDS health issues. And in 2001, Chicago House and Social Service Agency honored him at its annual luncheon with its Recognition of Service Award for his contributions to Chicago House and the larger HIV/AIDS community in Illinois.
Lang received his undergraduate degree in political science from the University of Illinois at Urbana in 1971 and his law degree from DePaul University College of Law in 1974. His 16th District comprises his current residence in Skokie as well as part of Chicago. In 1997, he was appointed Assistant House Majority Leader. (Please note: this information has not been updated since the time of the member's induction).