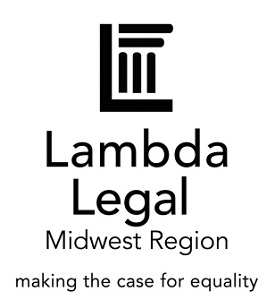 ORGANIZATION | Inducted 2013
Lambda Legal, for the 20 years of groundbreaking, precedent-setting work done by its Midwest Regional Office since its 1993 establishment in Chicago, involving such local issues as equal parade participation, HIV and fertility-treatment insurance coverage, real-estate discrimination, adoption rights, and student organizing rights, plus participation in critical national litigation.
The Midwest office filed the Iowa case of Varnum v. Brien, which brought marriage equality to Illinois's neighbor in 2009. The office is also engaged in litigating the current case of Darby v. Orr, which seeks same-sex marriage equality in Illinois.
In Minnesota, the Midwest office represented a high-school student in Nabozny v. Podlesny, which established in 1996 that schools have a legal obligation to protect gay and lesbian students from harassment. In several Midwestern cases, including at least one in Chicago, the office established the rights of lesbian and gay parents and their children to enjoy recognized family relationships through such means as second-parent adoptions, co-guardianships, and equitableparenthood theories.
One of the office's first Chicago cases involved a discrimination claim by the Ad Hoc Committee of Proud Black Lesbians and Gays (a 1993 Hall of Fame organizational inductee). The victory there enabled the committee to participate in the city's annual Bud Billiken Parade.
In the 1998 case of Doe v. Mutual of Omaha Insurance Company, the office and the AIDS Legal Council of Chicago represented two gay Chicagoans whose lifetime HIV-related coverage was limited to $25,000 or $100,000, in contrast to the $1 million cap for other conditions. The case was won in the trial court, but the appellate court reversed on the ground that insurance policies are not subject to Americans with Disabilities Act protections, a continuing problem. The office also represented Chicago's Howard Brown Health Center when it faced discrimination while trying to rent health-care space in South Side neighborhoods.
Lambda Legal's Midwest Regional Office has also represented a transgender group seeking to rent space for a fundraiser; obtained equal fertility-treatment insurance coverage for lesbian couples; and helped students to establish clubs supporting LGBT equality throughout the Chicago area.
Besides these and many other court cases, the office has provided legal advice to thousands. Through public-education and -policy work, it has also helped to ensure that LGBT community concerns are respected and addressed. (Note: information listed has not been updated since the organization's induction).