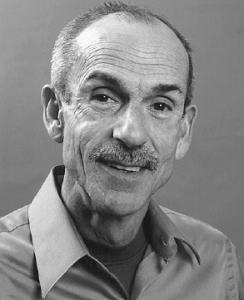 Photo by: Hal Baim/Windy City
Times
INDIVIDUAL | Inducted 2008 [Posthumous]
Joe La Pat (1943–2008), , born in 1943 in Racine, Wisconsin, built a successful career, restored buildings in Chicago, and supported organizations within LGBT communities. He died unexpectedly on June 29, 2008—the day of Chicago's annual Pride Parade. Throughout his life, La Pat never sought the limelight; he was always content to remain in the background. But that did not keep him from having an impact on countless lives, whether as a volunteer, a donor, or a businessman.
La Pat grew up poor; his mother raised him and three older sisters by herself after his father committed suicide when La Pat was only three years old. He learned the value of hard work and the importance of family and friends early on. In 1964 he enlisted in the U.S. Army, serving a three-year tour of duty as a military policeman with honor and distinction.
Not long after his discharge from the Army, La Pat met Dick Uyvari. Their life partnership flourished for 39 years and five weeks, as did their ongoing business partnership. As openly gay urban pioneers, they helped revitalize Chicago's Sheridan Park neighborhood by buying and restoring properties and by activity in neighborhood associations. Their work was recognized repeatedly; in 1986, for example, four Sheridan Park buildings the partners had restored were cited as examples of historically significant structures in a petition for the neighborhood's designation as a National Historic Landmark District.
During the 1980s, La Pat and Uyvari became involved with LGBT sports and fundraising, volunteering with the first and subsequent Proud To Run races, helping to organize Strike Against AIDS, and supporting other LGBT charities, ranging from the Lesbian Community Cancer Project to Howard Brown Health Center to Chicago House to the Center on Halsted. After selling much of their rental property in 2003, the couple ratcheted up their philanthropy, providing early seed money for Gay Games VII at a time when there were doubts about the ability of Chicago's LGBT communities to make the Games a reality. Notably, the couple's personal donations and fundraising made it possible for the Chosen Few lesbian soccer team from Soweto, South Africa, to attend the Games in 2006. They also provided approximately 80% of the Games' Scholarship Fund, which helped bring nearly 200 athletes from all over the world to Chicago.
In a letter from the Chosen Few team written after La Pat's death, Coach Leigh- Ann Naidoo said: "I would like to thank Joe for role modeling a different way of being a successful gay white male. And I hope that his life has inspired many of you to be active citizens of our world, especially at this challenging time." As a citizen of Chicago and the world, Joe La Pat stands as an exemplary inductee into the Chicago Gay and Lesbian Hall of Fame.