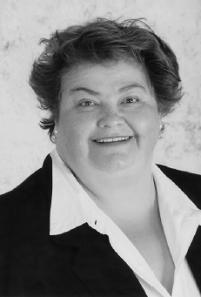 INDIVIDUAL | Inducted 2004
Born in 1948, Suzanne Kraus had her initiation into activism after she came out in 1977 while in training as a group facilitator at Chicago's Oasis Center for Human Potential. Upon finishing the training, she offered the first encounter groups ever presented there for "womyn-loving womyn." By its third cycle, the presentation was described as a lesbian group. As her politics grew, her workshop descriptions also became more pointed, until the Oasis board asked her to change the wording. She refused and moved on, but she had made a mark—as her optimism and cheerful demeanor always enable her to do.
During her first 10 years out, Kraus focused on the lesbian community—participating at women's music events, camping, working at and raising funds for a women's farm in Wisconsin, learning more about Goddess and Wicca traditions, celebrating the phases of the moon and women's lives. She also became active with the Professional Women's Network, a lesbian group that had separated from Gay Professionals and was led by the late Adrienne Smith, a noted psychologist who is also a Hall of Fame inductee.
In 1979 Kraus entered Mundelein College, where she quickly connected with lesbians and feminists on campus and found many ways to push boundaries even at that relatively liberal school. Later, while working in city government, Kraus took an interest in efforts to pass an ordinance on sexual-orientation nondiscrimination and tried to influence decisionmakers both on that issue and on South African divestment.
Kraus became a cancer survivor in 1986, which led to becoming a founder of the Lesbian Community Cancer Project and to becoming more involved in organized gay and lesbian activism, including congressional testimony on cancer at the time of the 1993 national gay and lesbian march on Washington. She was a Chicago promoter of the 1987 march, during which she met many gay men and started a transition toward more "co-ed" initiatives. She was then invited to join the IMPACT political action committee's board, where she chaired the political committee and twice co-chaired (with Tom Tunney) its annual dinner. Later she took part in organizing L-GIG (Lesbians and Gays in Government) and in 1987 joined the National (now International) Network of Lesbian and Gay Officials, helping to host its 1993 annual conference in Chicago and co-chairing it for two years.
In 1989, Kraus was hired by the late Cook County State's Attorney Cecil Partee and was instrumental in establishing the office's first Advisory Council on Lesbian and Gay Rights and the Criminal Justice System and later an LGBT victim-and-witness assistance position. Her career has also included leadership in North Side neighborhood gay and lesbian organizations and, in recent years, working as a senior account manager and writer for Windy City Media Group. (Please note: this information has not been updated since the time of the member's induction).