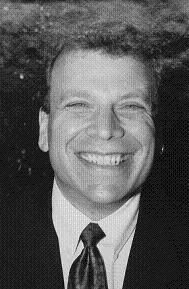 Photo by: Tracy Baim/Outline & Nightlines
INDIVIDUAL | Inducted 1994
Bruce Koff is a lifelong resident of Chicago, who has made truly significant contributions to the city's gay and lesbian community in the fields of social services and mental health, especially from 1984 to 1990 as executive director of Horizons Community Services after being on its staff since 1976. He is now retired from his clinical and teaching practice in psychotherapy.
Koff began his work at Horizons in 1976, and over the next eight years he volunteered in a number of capacities: as peer counselor, director of the Gay and Lesbian Switchboard, training coordinator for support group leaders, and a Youth Group advisor. Koff became the agency's unpaid executive director in 1984, while maintaining his full-time work as the administrator of a school-based counseling program. In 1986, he became Horizons' first paid full-time executive director; he remained in that post until July 1990.
While Horizons would continue to serve as a major volunteer-energy outlet, Koff's management style resulted in the agency's development of a businesslike, administrative infrastructure — giving it a wider credibility within the not-for-profit community and enabling expansion of its funding base.
As a result, Koff was able to foster a number of noteworthy innovative programs. These included Horizons' Anti-Violence Project, expanded services specifically for gay and lesbian youth, the PASSAGES Project, and other HIV/AIDS services. Koff's efforts in support of these and other programs continue to have a major positive impact on the lives of thousands of Chicago-area residents in the fight against homophobia and AIDS.
In the field of mental health, Koff maintained a full-time private practice, with a significant outreach to gay and lesbian clientele. He served as clinical director of the Evelyn Hooker Center for Gay and Lesbian Mental Health (affiliated with the University of Chicago); taught at the Illinois School of Professional Psychology; and continued to volunteer with Horizons' Psychotherapy Program.
In addition to his vital work at Horizons, Koff actively served the gay and lesbian community, both in Chicago and in larger arenas, through his involvement with a variety of boards, committees, and organizations, including the National Organization for Victim Assistance's Committee on Gay/Lesbian Victim Concerns, the AIDS Foundation of Chicago's Service Providers Council, the United Way of Chicago's Priority Grants Committee, the Mayor's Committee on Youth Concerns, Teen Living Programs, AIDS Walk Chicago, the Chicago Area Lesbian and Gay Domestic Violence Project, Gray Pride, and the Grinnell College Alumni Association.
Koff is also gifted with a beautiful singing voice and for many years was a member of the Windy City Gay Chorus.