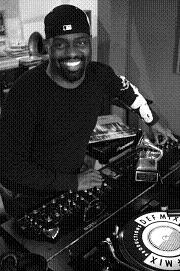 INDIVIDUAL | Inducted 1996 [Now Deceased]
As a producer, remixer, and DJ, Frankie Knuckles is the inventor and popularized of "house" music, known worldwide as "Chicago house" and named after Chicago's Warehouse nightclub, where he drew huge crowds between 1977 and 1987. The man many call the godfather of house, , an out gay producer, remixer, began DJing in New York in the early 1970s while still a teenager, years before the disco boom which proved to be the first flowering of modern dance music. Ten years later he was in Chicago, putting together megamixes of old disco hits with new drum-machine percussion for an appreciative audience at crucial clubs like the Music Box and the Warehouse. Another decade on from those first formative steps for house music, Knuckles was back in his New York home, working as a producer and remixer for the biggest pop stars in the business. His career spanned more time than any dance producer and without him, the landscape would be immeasurably different.
Born in the Bronx in 1955, Knuckles was influenced by many of the jazz artists in his sister's record collection, such as Stan Getz, Sarah Vaughan, and Herb Alpert. He studied commercial art and costume design before taking his first job as a DJ in 1971. Several years later, he hooked up with childhood friend Larry Levan and the two began working at Nicky Siano's New York club, the Gallery. Levan later moved to the Continental Baths, and Knuckles worked at another club for several months before rejoining Levan. Again, Levan left — this time to set up his own club, the Soho Place — and Knuckles continued on until the Continental Baths was closed. A group of entrepreneurs initially approached Levan about becoming the DJ at a club they were starting in Chicago; instead of abandoning the interest in his own club, he declined but suggested his friend Frankie Knuckles.
Knuckles moved to Chicago in 1977 and began DJing at the Warehouse, spinning Salsoul and Philadelphia Int'l records in front of a crowd unused to the New York DJing style, which included beat-mixing and the addition of percussion fills (from a separate turntable) to spruce up the sound of traditional soul. In 1983, Knuckles opened his own club, the Power Plant. While Ron Hardy was entrancing a largely gay, uptown crowd at the Music Box, Knuckles introduced the sound to many of the Southside producers who made waves during the 1980s: Marshall Jefferson, Larry Heard, Adonis, Steve "Silk" Hurley and at least half a dozen others.
After more than 15 years spinning vinyl, Frankie Knuckles began recording as well, debuting with several singles released on the seminal Trax Records. Such efforts as "Your Love," "Baby Wants to Ride," "You Got the Love" and "Angel" (most credited to Knuckles though vocalist Jamie Principle undoubtedly exercised some influence) were among the best tracks released in the Chicago house explosion of the mid-'80s. Knuckles also recorded for Danica ("Let the Music Use You") and worked with younger producers like Marshall Jefferson as well as future FINGERS, INC. vocalist Robert Owens. Just as Chicago house began spreading worldwide during 1986-87 though, Knuckles returned to New York. He formed Def Mix Productions with David Morales (one of the other major names in house music) and began working on house treatments for the biggest pop stars of the 1980s and '90s, including Michael Jackson, Diana Ross, Chaka Khan, Inner City and En Vogue.
Despite the popularity of house in the international arena, the godfather of the music waited several years before the major labels came calling for something other than a remix. Finally, Virgin signed him to an artist contract in 1991 and released his debut album Beyond the Mix. The singles "The Whistle Song," "Rainfalls" and "Workout" moved up the dance charts, though the album failed to connect with pop or R&B fans. Knuckles continued to produce singles and remix tracks, while his second album Welcome to the Real World was released in 1995.
According to Genre magazine, Knuckles has been a DJ of international superstar stature since 1987. He remained devoted to spinning and filling a dance floor, but after the release of two albums by Virgin Records Beyond the Mix and Welcome to the Real World Knuckles spent more time remixing and producing. He released two albums, "Collection of Classics" and "Out There: 2001 Mardi Gras Sydney Gay & Lesbian".
In Frankie Knuckles, Chicago's gay and lesbian audiences have helped to nurture a talent with seemingly boundless potential. He has repaid by providing countless hours of self-affirming musical involvement. He passed away March 31, 2014. He was 59.