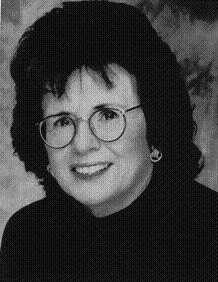 INDIVIDUAL | Inducted 1999
Building on her tennis stardom to create social change, Billie Jean King has elevated the self-esteem of girls and women through her lifelong struggle for equality in the sports world. She also raised large sums to fight AIDS, contributed funds to combat homophobia in schools, and supported efforts to stem gay and lesbian teenage suicide rates. Her accomplishments in the world of tennis are many and well known. They include her capture of 71 singles titles, 20 Wimbledon titles, and 12 Grand Slam singles titles. Her true legacy, though, is the multitude of ways in which she has helped to create social change.
King has been instrumental in organizing the Women's Sports Foundation (1974) and the former International Women's Professional Softball Association (1976), and her involvement as a Women's Sports Foundation board member in encouraging the U.S. Department of Education's Office for Civil Rights to enforce Title IX sex-discrimination provisions of the Education Amendments of 1972. King has motivated people to believe in themselves, regardless of sex or gender.
In addition, King served as a board member of both the National AIDS Fund and the Elton John AIDS Foundation and used her celebrity to raise visibility as well as money for AIDS organizations. As co-founder and director of World TeamTennis, headquartered in Chicago, she has helped to promote and co-hosted its annual Smash Hits celebrity tennis events in cities around the nation. The events raise funds for the Elton John foundation and local AIDS charities.'
After moving to Chicago, King helped to strategize about how to get the widest distribution among local educators for the award-winning film "It's Elementary: Talking About Gay Issues in School", and she contributed $10,000 toward that end. Her work on the film project was recognized with a 1998 Pathfinder Award from GLSEN Chicago, the local chapter of the Gay, Lesbian, and Straight Education Network.
She also received numerous other honors, including induction into the National Women's Hall of Fame and receipt of Hobart and William Smith Colleges' Elizabeth Blackwell Award for service to humankind.
At the time of her induction, King was working to establish a foundation devoted, in part, to stemming the rate of suicide among gay and lesbian teenagers. (Please note: this information has not been updated since the time of the member's induction).