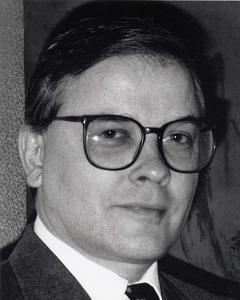 INDIVIDUAL | Inducted 1991 [now deceased]
For 26 years, Bill Kelley's active participation in organizations, lobbying, polling, refining the language of proposed legislation, publishing positions, and holding legislators accountable for their actions and promises have been but the tip of the iceberg. His influence behind the scenes cannot be overestimated. His knowledge, intellect, and steady, reasoned approach have earned him the trust and respect of community activists on all sides of issues.
Since 1965, he has led in many pioneering efforts – among them helping to organize the first national gay and lesbian conferences (1966), co-founding the "Chicago Gay Crusader" and Illinois Gays for Legislative Action (early 1970s), attending the first White House gay rights meeting (1977), co-chairing the Illinois Gay Rights Task Force (late 1970s), and co-founding the National Lesbian and Gay Law Association (1988). Now a lawyer, he chaired the Cook County Commission on Human Rights for its first 10 years.
Kelley has been an initiator of a large number of community projects; his involvement has included Mattachine Midwest, the Chicago Gay Alliance, Homosexuals Organized for Political Education, the Gay and Lesbian Pride Week Planning Committee, Illinois Gays for Legislative Action, the Illinois Gay and Lesbian Task Force, the Gay and Lesbian Coalition of Metropolitan Chicago, the North American Conference of Homophile Organizations, and the National Gay (now Gay and Lesbian) Task Force. In 1977, he took part in the first White House meeting with national lesbian and gay leaders. He was a co-founder of the monthly Chicago Gay Crusader (Chicago's first lesbian and gay newspaper) and a founding member of the Gay and Lesbian Press Association. He has represented lesbian and gay concerns while actively participating in such groups as the 1980 White House Conference on Families and the implementation committee for the 1980 startup of the Illinois Human Rights Commission. In 1987, after many years of concern with lesbian and gay legal rights, he realized his personal dream of becoming a lawyer.
When Kelley became involved in gay activism in 1965, he was able to know everyone else involved in Chicago, and a large proportion of those involved nationwide. In those days, Mattachine groups were seen as dangerously radical by many of their hoped for constituents. Without being mired in the past, Kelley brings a valuable perspective to present day activism and, by the breadth of his past lesbian and gay rights activities, he has helped to pave the way for today's more specialized, resource rich community institutions.
Kelley is currently a law clerk to Justice William S. White of the Appellate Court of Illinois. He serves on the board of directors of the American Civil Liberties Union of Illinois and is a former board member and officer of the Chicago Access Corporation. He is a founder and co-chairperson of the National Lesbian and Gay Law Association and a member of the Lesbian and Gay Bar Association of Chicago, Asians and Friends Chicago, the Cook County State's Attorney's Task Force on Gay and Lesbian Issues, the City of Chicago's Advisory Council on Gay and Lesbian Issues, and the National Committee for Sexual Civil Liberties.
Please note: this information has not been updated since the time of the member's induction.