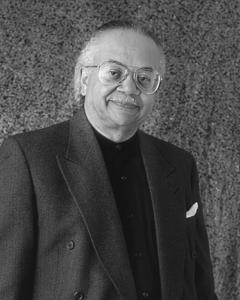 FRIEND OF THE COMMUNITY | Inducted 1998
A former member of the Chicago City Council, Cliff Kelley is a "Friend of the Community" for having become in 1973, at some political risk, the pioneering lead sponsor of Chicago's first proposed ordinance to ban sexual-orientation discrimination. His perseverance helped get it taken seriously. Through his Council tenure had already ended, a version of the proposal finally passed in 1988.
That proposed ordinance eventually died, as did successive versions Kelley kept offering. But they gained increasing attention and support both among the public and among council members. They were the precursors of the measure that did ultimately pass in 1988 and that, with later amendments, now constitutes what is often called the city's Human Rights Ordinance.
Kelley's sponsorship did not take place in a vacuum, nor without courage. As a young alderman, he took an interest in matters beyond his ward lines that was exceptional for the City Council. He was attracted to ideas and social justice, not simply to winning elections. He became active in international organizations of legislators, which was hardly a prerequisite for council service. He was an officer of the Illinois Young Democrats and a Democratic Party platform committee member. He was a thinker, and still is.
Activists drew his attention to gay and lesbian rights goals during his Young Democrats and platform committee service. Soon afterward, he introduced his historic proposed ordinance on July 6, 1973. Because of his popularity and his position in the council's Regular Democratic majority, he secured surprisingly broad aldermanic support for the proposal even in its earliest days. He shepherded it through lengthy hearings that resulted in much publicity for its contents, its proponents, and its sometimes shrill opponents.
In the years that followed, he took the lead in making gay and lesbian rights into a subject his colleagues had to take seriously. And he did so despite the fact that, as a bachelor from a ward with no strong pro-gay advocacy organizations, he was vulnerable both to gossip about his own sexual orientation and to criticism from locally strong religious groups that opposed the ordinance. Later, he also faced criticism from advocacy groups that felt his proposal was taking too long to pass or that even professed to doubt his sincerity. He persevered and refused to be intimidated, no matter how chagrined by the hostility he encountered.
It later came to pass that Kelley's council service was cut short. As a result, he could not be involved when gay and lesbian rights continued to make gains in the City Council and in Chicago city government generally. But Kelley is a forefather of those gains, and in this 25th anniversary year of his courage and commitment he deserves Hall of Fame induction as a "Friend of the Community." (Please note: this information has not been updated since the time of the member's induction).