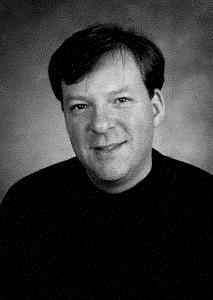 INDIVIDUAL | Inducted 1997
Rick Karlin has been an activist in Chicago's gay and lesbian community for more than 20 years. A visible public figure in print and onstage, he has also lent his talents to countless charitable events, co-founded the city's first gay parents group, volunteered extensively for Horizons Community Services, been a leading advocate for gay and lesbian teachers, and contributed his writings to all the local gay and lesbian media. Many know him only in his public persona, but he is as comfortable working behind the scenes doing drudge work as he is onstage receiving plaudits.
Karlin's activism began in 1976. As a single gay father, he found it hard to reconcile his status as a parent with that of a gay man. Working with his friend Kathy Ramos, he founded Chicago's first gay parents group. Later, he moved it toward affiliation with Horizons Community Services. In 1984 and 1985, he brought to Chicago the Gay and Lesbian Parents Coalition International's conference, which he co-chaired. Later, he served as an executive vice president of the Coalition, organized its 1987 March on Washington contingent, and received its President's Award in 1996.
From 1978 to 1982, Karlin wrote for GayLife as the Gay Gourmet. Meanwhile, in 1979, he began as a volunteer at Horizons Community Services (then Gay Horizons), rose to a board position, and organized Horizons' Saturday Night Coffeehouse at the Jane Addams Hull House Center until 1986. In 1980, "Spin Cycle", a musical he co-wrote with the late Frank DePaul, opened for a three-month run at the Theatre Building and became the first gay-themed musical to be reviewed by Chicago's mainstream press.
In 1982, he began writing for Gay Chicago Magazine. His serials, "Tales of the Second City" and "Death on the Rocks," became popular features of the magazine through 1995. In 1988, he began editing the magazine's "After Dark" section, aided in turning the magazine's focus from being a bar guide to being a full entertainment guide, and helped to showcase charity events and benefits on the magazine's covers. He inaugurated the magazine's "Dream Date with Gay Chicago's Most Eligible Bachelors" as a benefit auction for Chicago House, and he made the magazine's "After Dark" Awards into a benefit for the AIDS Foundation of Chicago. In 1996, he moved to Nightlines and began broadcasting on Chicago's "LesBiGay Radio" program.
Karlin emceed ceremonies for the NAMES Project's Quilt and has organized or served as auctioneer in benefits for Horizons Community Services, the Gerber/Hart Library, Open Hand Chicago, and numerous other groups. Since 1994, he has produced four annual benefit versions of "A Commitment to Love," which received much publicity as the world's first gay and lesbian "wedding fair," and he 1994 and 1995 produced "Night of 100 Drag Queens" benefits which have since been held annually, until 2016.
Besides that, Karlin helped his friend Alyn Toler to establish Chicago's Pink Angels in 1992, was a founding member and enthusiastic publicist for the Chicago chapter of what is now the Gay, Lesbian, and Straight Education Network (GLSEN), has been named one of Illinois's "Most Talented Teachers" and an "Outstanding Teacher" in Chicago, received a Rochelle Lee Fund grant, and reared two sons. He subsequently wrote for Chicago Free Press, ChicagoPride.com and boimagazine.
He currently lives in Fort Lauderdale, Fl with his husband Gregg Shapiro where he continues his community activism and writing for the LGBT press.