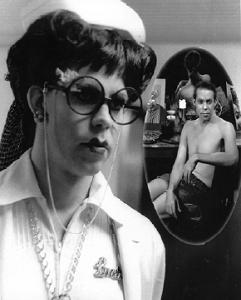 Photo by: Thousand Words Unlimited
INDIVIDUAL | Inducted 2008 [Posthumous]
Stephen Jones (deceased 1980), entertainer and health advocate, was known widely in Chicago's gay communities in his 1970s drag persona, "Nurse Wanda Lust." He served quite literally as the poster person for VD testing and is remembered by many for his tireless, groundbreaking promotion of sexual health awareness.
Wanda Lust worked at the Man's Country bathhouse during the early and mid-1970s, where she served as resident comedian, performer, and emcee. In addition to serving as an opening act for a number of nationally known performers, Wanda Lust became well known and loved as a performer in her own right for her humor, fabulous wardrobe, and talented singing and dancing performances.
When the opportunity arose for her to help the gay male community to get testing and treatment for what were then termed "venereal diseases," Wanda Lust traded in her elaborate evening gowns for a nurse's uniform and transformed from Wanda Lust to Nurse Lust. With this new persona, she appeared on posters promoting VD testing in a pose reminiscent of Uncle Sam, stating,"I Want You to Get Tested."
In addition to these posters, Nurse Lust contributed to sexual health and awareness within the gay male community by accompanying a VD van as it made its rounds providing testing at Chicago-area gay bars and baths, by frequently stopping in at the VD clinic within Man's Country, and even by visiting men in the hospital. With her help, the gay male community began to see its sexual health needs addressed in growing numbers and with increasing respect, effectiveness, friendliness, acceptance—and fun.
In 1978 Stephen Jones moved to Kansas City, where he continued his career as a gay community entertainer. On February 19, 1980, he was stabbed after innocently asking a fellow moviegoer to be quiet; he died minutes later in his lover's arms.
While Jones's life was tragically short, his contribution to Chicago's gay communities as both an entertainer and a health activist has provided a legacy worthy of remembrance and recognition, leading to his induction into the Chicago Gay and Lesbian Hall of Fame.