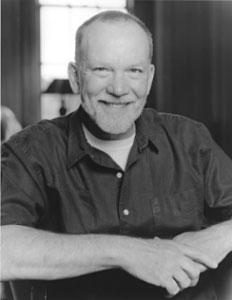 INDIVIDUAL | Inducted 1998
During two decades, he has been a community activist. As partner in the innovative video bar Sidetrack, Arthur Johnston aided gay and lesbian businesses' growth and made many contributions to charitable and political efforts. He was an early leader of what is now the Metropolitan Sports Association, and he was an important organizer in passage of Chicago and Cook County human rights legislation.
A native of North Tonawanda, New York, Johnston was the first member of his family to go to college. A scholarship student majoring in French, he graduated from the State University of New York at Albany and became a teacher at a boys' boarding school. He also served as soccer coach, a prelude to his later involvement with gay and lesbian sports. In 1972, he moved to the Chicago area to obtain a Master's of Fine Arts degree in directing from Northwestern University. There he met José "Pepe" Pena, his life partner.
Johnston became an early member of Chicago's Gay Athletic Association, which later became the Metropolitan Sports Association. Serving on its board of directors between 1978 and 1991, he helped to gain league acceptance by the National Association of Amateur Gay Athletes, and this served as a political primer for much of his later work.
When Pena began to make video magic at the fledgling bar, Sidetrack, Johnston was a suburban high school teacher. He signed on as a weekend bartender in April 1982, and when the original owner died, Pena talked Johnston into joining with him to buy the bar. For 16 years, it has been one of the most popular in Chicago, and among the most innovative video bars nationwide.
Johnston was a pioneer in getting his suppliers to provide sponsorship for gay and lesbian athletic events, street fairs, community-based HIV and AIDS service providers, and other gay and lesbian organizations. He is a longtime member of the Northalsted Merchants Association.
The late Ron Sable persuaded Johnston to become a founding board member of IMPACT. This was a springboard for Johnston later to join with Jon-Henri Damski, Laurie Dittman, and Rick Garcia as the "Gang of Four" in organizing Gay and Lesbian Town Meeting, which was responsible for heightened lobbying efforts that in 1988 finally ushered in a historic Chicago ordinance banning discrimination because of sexual orientation. That is the accomplishment of which he is proudest. Later, he was highly instrumental in the 1993 passage of Cook County's human rights ordinance.
Thereafter, Johnston was a co-founder of the Illinois Federation for Human Rights (now called Equality Illinois). Its primary mission is passage of state-level human rights legislation that will include equal protection for lesbian and gay Illinoisans. Sidetrack has become a focal point for IFHR activism, often hosting events that attract a wide range of politicians. Johnston lobbies them all.
With Pena, Johnston has been a generous donor to countless community organizations, both mainstream and gay- and lesbian-specific, and to numerous political campaigns. His awards include recognition by the Chicago Bar Association and the Chicago Commission on Human Relations. (Please note: this information has not been updated since the time of the member's induction).