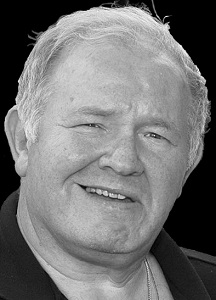 INDIVIDUAL | Inducted 2013 [Posthumous]
Rudolph Johnson, Jr. (1947–2006), for 23 years as a well-known and well-regarded North Halsted Street bar owner who led the Northalsted Merchants Association and other neighborhood groups, instituted and promoted local festivals, sponsored sports leagues and events, and lent and recruited support for a wide array of LGBT nonprofit organizations and pro-LGBT politicians.
Born in Chicago's Lakeview neighborhood in 1947, Rudolph Johnson, Jr., led several Lakeview business organizations with distinction. He ran a bar that has sponsored numerous gay sports teams and events, and he aided many local social-service and political organizations.
Johnson had a 50-year association with North Halsted Street. His parents' first home was a cold-water flat near Sheffield and Lincoln avenues. From 1952 to 1979 he grew up at 2112 N. Halsted, and from 1983 to his sudden death in 2006 he was a founder and partner of The North End bar at 3733 N. Halsted. Johnson learned the building trades from his contractor father and from his Lane Technical High School education. While driving along Halsted, the father could point out the numerous projects on which he had worked.
Because of his trusted leadership, Johnson was the longest-serving president of the Northalsted Merchants Association (now the Northalsted Business Alliance). During his six terms, the annual Northalsted Market Days became the financial powerhouse that it is today. Other signature recurring events begun during his tenure were Taste of Halsted Street, Chicago Pride Fest, and the Northalsted Halloween Parade. He encouraged saving money from such events, and some of the funds then went toward establishing and supporting the Center on Halsted. Johnson himself invested in much real estate along more than two miles of the street and helped to revitalize the area.
The North End became the city's first "gay sports bar." It has sponsored leagues in both the Windy City Athletic Association and the Metropolitan Sports Association (now the Chicago Metropolitan Sports Association), primarily in bowling and softball. Many bowling and softball fundraisers and other events have been held at the bar. In 2006, less than three months before Johnson's death, it was the official host bar for the Gay Games VII bowling event, which attracted 576 participants from around the world.
Among groups that Johnson aided were the Chicago Gay Men's Chorus, Open Hand Chicago, Direct Aid, IMPACT, the Illinois Federation for Human Rights (now Equality Illinois), the NAMES Project, Chicago House, and Horizons Community Services (later Center on Halsted). He was also an active contributor to political candidacies.