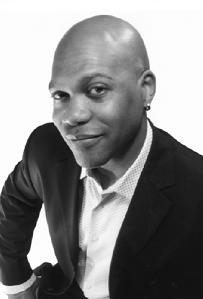 Photo by: Stephen J. Lewis
INDIVIDUAL | Inducted 2010
E. Patrick Johnson has lived in Chicago for more than a decade and has contributed prolifically to the visibility and well-being of LGBT community in the city, the United States, and beyond. Dr. Johnson is an award-winning author, nationally touring performer, world-recognized scholar, and community activist and philanthropist. He has distinguished himself in several venues while sustaining his focus on documenting and disseminating knowledge about the lives, creativity, and histories of LGBT people, especially those in African American communities.
A member of the Northwestern University faculty, Johnson has published two books that center on black LGBT life: "Sweet Tea: Black Gay Men of the South" and "Black Queer Studies". He has taught and inspired hundreds of students at Northwestern, many of whom have gone on to work in academic, artistic, and activist venues focusing on LGBT issues.
His performances and public programs, such as "Gays and Gospel" at the Chicago History Museum and his one-man play "Sweet Tea" at the Viaduct Theater, have translated his research for large audiences, who are often empowered by his generous, engaging, and poignant chronicles of LGBT lives. He has also toured a one-man show, "Strange Fruit", throughout the United States since 1999.
As the first African American born and raised in Hickory, North Carolina, to earn a Ph.D. degree, Johnson was honored by that community on July 26, 1996, after black residents persuaded the City Council to proclaim the day in his honor.
Johnson instituted and hosts an annual dessert-party fundraiser at his home, generating contributions for Pediatric AIDS Chicago and Kids Fight Cancer. He is also significantly involved with outreach and fundraising for the Black AIDS Institute and for Lambda Legal.
Among his recognitions was a 2010 Esteem Award for contributions to Chicago's black LGBT communities. Johnson is also the author of an award-winning first book, "Appropriating Blackness: Performance and the Politics of Authenticity", published in 2003 by Duke University Press. (Note: information listed has not been updated since the member's induction).