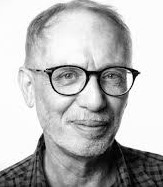 INDIVIDUAL | Inducted 2020 [posthumous]
Joel Drake Johnson was an award-winning, internationally produced Chicago playwright and teacher. His local writing impacted audiences in Chicago (Victory Gardens and Steppenwolf, among others), as well as coast to coast, and beyond U.S. borders. Joel wrote three-dimensional characters with comedic and tragic brilliance. He lived in East Lakeview (on Elaine Place and at Surf and Broadway) and the Gold Coast.
Joel integrated complex and pensive consideration in his work. He wrote about death and dying, loneliness and fear, temperament, and relationships embodied the concept of making a life making a living and making a difference. Joel's art made communities aware of homophobia bias and discrimination.
He was nominated for a Joseph Jefferson award five times, received an Emmy nomination for his teleplay A Moment of Rage and was a member of the Pen America Center. Joel was the recipient of the Chicago Dramatist's Marquee Award for his overall playwrighting career.  His most commercially successful work is likely Rasheeda Speaking which opened at Chicago's Rivendell Theatre then moved off Broadway to New York starring Cynthia Nixon and Tonya Pinkins where it was nominated for an Outer Critics Circle Award for best new work.  Subsequently, it received its highly acclaimed European premiere at London's Trafalgar Studios.
Joel once said, "I am interested in creating stories with characters who, despite their flaws, their bad decisions, their selfish inhibitions, their awkward/comic interactions and tragic setbacks, push themselves on to an enlightened understanding of their place in the world."
He was a playwright with bursts of passion and constant insight into the human condition, especially the loneliness and self-doubt that can overtake us in later life.  As a man, a teacher, and an artist, he helped many of us to have a more enlightened understanding of the world.