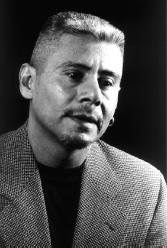 INDIVIDUAL | Inducted 2001
A social service administrator and HIV/AIDS educator, Dave Jimenez conducted more than a decade of innovative risk-reduction activism among African American and Latino men who have sex with other men, chiefly through leading the Minority Outreach Intervention Project. The innovative project, formed in 1989, is a community-based non-profit agency that provides HIV/AIDS intervention and prevention services to gay, bisexual and transgender African American and Latino men. The project was one of the nation's first agencies to focus such services on those men. It was also one of the first agencies to offer street-based outreach in bars, parks and other congregation sites.
Key to the project's success in reaching African American and Latino men who have sex with other men (MSM) is its Indigenous Leader Outreach Model, which Jimenez helped to develop. The model, another first for the project, outlines how to introduce community-based interventions by employing persons from the target population and using their personal social networks to reach people.
Through Jimenez's vision and commitment, the Minority Outreach Prevention Project has grown from a staff of 3 in 1989 to a staff of more that 20 today. It offers a variety of services, including city-wide HIV/AIDS prevention and intervention outreach; Ryan White CARE Act and Illinois Office of Rehabilitation Services case management for HIV-positive MSM; prevention case management; an onsite primary medical care clinic; HIV counseling and testing; and Lo Nuestro and Unidad/Unity discussion programs for Latino adult and adolescent MSM.
For the project, Jimenez has held the title of executive director since 1992. He has bachelor and master of arts degrees from Northwestern University, and he has numerous presentations and professional papers to his credit. (Please note: this information has not been updated since the time of the member's induction).