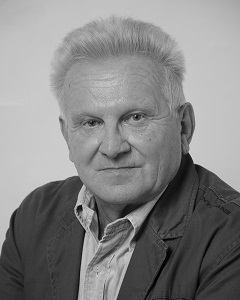 INDIVIDUAL | Inducted 2015
Stan Jenczyk was born in a German Workers' Camp in Waltrop, Germany, in 1944. His parents were murdered by the Nazis and he was adopted by a Polish couple. Eventually, he emigrated to the United States and lived on the Chicago's South Side. At the age of 19, he joined the United States Navy, where he served honorably from 1964 to 1968. During his service, he became a U.S. citizen. His dedication and perseverance led to the establishment of a monument to LGBT veterans and service members in the Abraham Lincoln National Cemetery.
Since 2010, Jenczyk has been a member of the Chicago Chapter of the American Veterans for Equal Rights (AVER), where he currently serves as a Junior Board member. In 2011, members of AVER began a conversation about building a monument in a national veterans' cemetery to honor LGBT veterans and servicemembers. Jenczyk volunteered to chair what became the AVER Chicago Chapter's Monument Committee, where for several years he intrepidly fought through the tangled federal bureaucracy, eventually carrying a suitcase full of government paperwork that weighed nearly as much as a fully loaded combat rucksack. After four years of negotiations, the final design was approved by the U.S. Department of Veterans Affairs.
Thanks largely to Jenczyk's efforts, and to his dedication and persistence, the first—and to date, only—monument dedicated solely to LGBT veterans and service members, by LGBT veterans, in a national Veterans Administration cemetery was dedicated on Memorial Day 2015 at the Abraham Lincoln National Cemetery in Elwood, Illinois, the largest of all the many such cemeteries in the U.S. It was funded solely through individual and group donations. The text on the monument reads: "Gay, lesbian, bisexual, and transgender people have served honorably and admirably in America's armed forces. In their memory and in appreciation of their selfless service and sacrifice, this monument was dedicated by the Chicago Chapter of American Veterans for Equal Rights (AVER); '… with liberty and justice for all.'"
Jenczyk has also volunteered with a number of activities in his church and community, including Frontrunners/Frontwalkers Chicago, where, in addition to serving as a member of the Board, for the past three years he has provided very professional forklift driving services for the club's award-winning aid station in Boystown during Chicago Marathons. In addition, he volunteers at the Brown Elephant and at the Center of Concern, a non-profit agency offering Senior Support services to individuals living in the Maine Township area, where he visits individuals and provides transportation to their doctors' appointments. He considers his life with his partner of 36 years, the late Matthew Thomas Lind, his greatest achievement. (Note: information listed has not been updated since the member's induction).