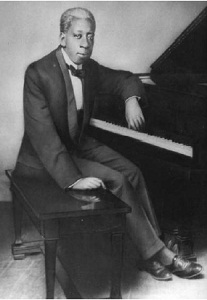 INDIVIDUAL | Inducted 2011 [Posthumous]
Tony Jackson (1876-1921), a pioneer in early-20th-century popular music. He brought musical influences from his native New Orleans to Chicago, gained fame as a talented and colorful performer, mentored such jazz figures as Jelly Roll Morton, wrote the 1916 hit "Pretty Baby," and lived as an openly gay man when that was rare.
Ragtime legend Tony Jackson was born into poverty in New Orleans on June 5, 1876. At age 10, he constructed a kind of harpsichord out of backyard junk, tuned it, and used it to reproduce hymns he heard in church. At 13, he got his first job playing piano off-hours at a honky-tonk. By 15, he was considered one of the best musicians in town and soon was one of the most sought-after entertainers in Storyville, yet he continued to face serious challenges in New Orleans both as an African American and as a gay man.
Seeking greater freedom, he came to Chicago in 1912. His influence on Chicago's music scene was immense. Jackson helped to lay the foundation for Chicago's reputation as a jazz capital, bringing the musical culture of his birthplace to nightspots and cabarets throughout Chicago's South Side. Jackson found acceptance along the Stroll, the African American nightclub district around the intersection of State and 35th streets. Jackson was part of the vibrant subculture of Chicago's Bronzeville neighborhood, where LGBT communities flourished in the early 1900s and aided in making it in many ways Chicago's version of the Harlem Renaissance.
Jackson's profound musical talent was matched by his skills as a showman. He is remembered for dancing an impressive high-kicking cakewalk while playing. His voice was also exceptional: He could sing ballads, blues, and even opera from soprano to baritone. Jackson wrote many tunes but sold most of the rights for a minimal amount, and many were stolen outright from him. Indeed, some well-known Tin Pan Alley tunes were actually written by Jackson. Songs that have been attributed to him include "Michigan Water Blues" and "The Naked Dance." One song published under his own name was "Pretty Baby" (1916), which was reportedly written in its original form as a tribute to his male companion with suggestive double-entendres. Eventually, the song was rewritten with lyrics suitable to general audiences.
Jackson's influence extended beyond his skills as musician and showman. Even his personal sartorial style came to define the archetypical image of the ragtime pianist: gray derby, ascot with diamond stickpin, a checkered vest, and sleeve garters. However, in his later Chicago years, Jackson often performed in an immaculately tailored tuxedo.
Sadly, Jackson's musical virtuosity was never recorded, but his influence may be discernible in recordings by younger musicians he inspired, such as Jelly Roll Morton, Clarence Williams, and Steve Lewis.
He continued to perform at South Side cabarets until his early death on April 20, 1921, at age 44.