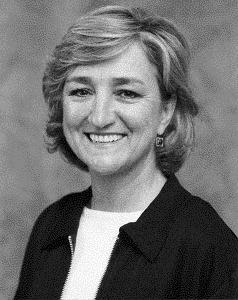 INDIVIDUAL | Inducted 2003
As a researcher, advocate, and educator, Tonda Hughes has made outstanding contributions in the area of lesbian health. Besides innovative research projects, she has advised government and private health and social service agencies, organized conferences, and made many public educational presentations. She teaches at the College of Nursing in the University of Illinois at Chicago.
Research and advocacy related to lesbian, gay , bisexual, and transgender (LGBT) issues can pose significant career risks to academic professional because such research is not always valued or understood and because funding is difficult. Nevertheless, Hughes began to pursue her interests in lesbian health as an untenured faculty member of the College of Nursing at the University of Illinois at Chicago (UIC) in the early 1990s.
In collaboration with Chicago's Lesbian Community Cancer Project (LCCP), she helped to initiate and carry out the city's first lesbian health needs assessment from 1992 to 1994. Since then, she has conducted 2 other major research studies among lesbian Chicagoans, including first federally funded study of lesbians' use of alcohol. Her pioneering research continues, and in 2001 she won a $1.5 million National Institutes of Health grant to conduct the first ever longitudinal study of lesbian health.
She is also an articulate spokesperson and advocate on LGBT health issues. She has volunteered advisory services to several Chicago health and social service agencies, including Howard Brown Health Center, LCCP, the Chicago Department of Public Health's Office of Gay and Lesbian Health, and the Oak Park Area Lesbian and Gay Association. She helped organize "Creating Healthy Lives: Exploring the Diversity of Lesbian Health," a Chicago conference on health issues for lesbian, bisexual, and transgender women, and is the founding member of the Chicago Midwest Lesbian Health Research Consortium. She often presents information on lesbian health to community groups and the LGBT news media. Together with more than 100 professional publications and presentations, these activities reflect her strong commitment to disseminating research findings to health-care providers, policy makers, and the lay public.
Beyond Chicago, Hughes has consulted on LGBT health-related issues with such federal agencies as the National Institutes of Health, the Center for Substance Abuse Prevention, and the Center for Substance Abuse Treatment. She contributed to both the 1999 Institute of Medicine report on lesbian health research priorities and the 2001 Gay and Lesbian Medical Association publication (partly funded by the U.S. Department of Health and Human Services), 'Healthy People 2010 Companion Document for Lesbian, Gay, Bisexual, and Transgender (LGBT) Health'.
She serves on several journals' editorial boards and has received research awards from the Illinois Nurses Society on Addictions (1991) and the National Nurses Society on Addictions (1998), the Outstanding Alumnus Award from Eastern Kentucky University's College of Allied Health and Nursing (1995), the Graduate Faculty Excellence Award from UIC College of Nursing (1996), and induction as fellow of the American Academy of Nursing (2001). She is now an associate professor in UIC College of Nursing and research director for the UIC Center of Excellence in Women's Health. (Please note: this information has not been updated since the time of the member's induction).