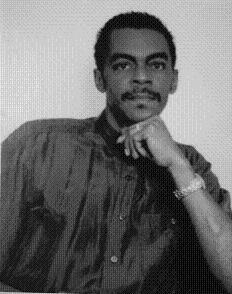 INDIVIDUAL | Inducted 1999 [Now Deceased]
Derrick Hicks has been active as an organizer in the African American lesbian and gay communities of Chicago and of Washington, D.C., for more than 20 years.He organized in the African American lesbian and gay communities of Chicago and Washington, D.C. and helped to lead AIDS, political, and social service groups. Born in 1955 he died in 2002.
Born in Chicago, Hicks helped to start an after-school tutoring program in the West Side's Lawndale neighborhood in the 1970s. During the same period, he was a writer for Chicago's GayLife newspaper and became an original member of the Committee of Black Gay Men. In the late 1970s, Hicks founded Diplomat magazine in Chicago, one of the first periodicals to be targeted specifically to lesbians and gay men of color. In the early 1980s, he moved himself and the magazine to Washington, where he became a founding member of a District of Columbia AIDS task force and a member of the Whitman-Walker Clinic's board.
Hicks also co-chaired Washington's Langston Hughes–Eleanor Roosevelt Democratic Club and served as president of the Black Lesbian and Gay Community Center. He also spoke often at ward meetings in Washington as an openly gay man, helping to focus attention on the city's response to AIDS.
On his return to Chicago, Hicks became a co-founder of the Greater Chicago Committee, a social organization with a civic mission for African American gay men and lesbians, and has organized annual Bayard Rustin Awards programs for the group. He was a co-founder of Chicago's Bayard Rustin–Audre Lorde Club, an African American sexual-minority political organization. He also helped to plan the Rainbow Jam event in 1996, which greeted gay and lesbian delegates to that year's Democratic National Convention in Chicago and focused on lesbian, gay, bisexual, and transgendered persons of color. Hicks was a principal in Strategic Concepts, a public relations, political consulting, and events planning firm. He volunteered and consulted for such organizations as Better Existence for HIV (BE-HIV), the Chicago West Side Police Association, and the Dowell Foundation.
Hicks served as a member of the Chicago HIV Prevention Planning Group and as a member of St. Joseph Hospital's HIV Advisory Board. He received several awards in Chicago and Washington for his social activism. He passed away in 2002.