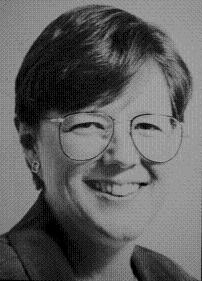 Photo by: Marilyn Humphries
INDIVIDUAL | Inducted 1995 [Now Deceased]
As an organizer and philanthropist in Chicago and Massachusetts Jean Hardisty helped open Chicago's first shelter for battered women; has written and organized for women's social and health needs; and, besides private philanthropy, co-founded the Crossroads Fund, a nontraditional funder of many gay, lesbian, and AIDS groups. In 1981, she formed what is now Political Research Associates, of Cambridge, Mass, which educates the public on right-wing tactics.
Her academic career included a bachelor's degree in art history from Northwestern University in 1967, followed by master's degrees in political science from the University of Southern California and from Northwestern, and a 1976 Ph.D. degree in political science from Northwestern. Thereafter, she was director of a 1977 Summer Institute on Africa at Colgate University and from 1976 to 1980 taught at Colgate University, Northwestern University, and Lake Forest College.
Hardisty was a founding member of the Chicago Abused Women Coalition in 1978 and helped to open Chicago's first shelter for battered women. As a board member of Women United for a Better Chicago, she advocated establishment of a Mayor's Advisory Commission on Women's Affairs and drafted Bread and Roses . . . a Woman's Platform for Chicago. The latter outlined Chicago women's pressing needs; besides other general and specific reforms, these included an ordinance against sexual-orientation discrimination, public education programs to reduce AIDS risk, and sensitization of police to domestic violence in same-sex households.
Hardisty co-founded the Crossroads Fund in 1980. It makes grants to organizations that have difficulty in obtaining funds from more traditional sources. She was its president from 1985 to 1987. Many gay, lesbian, and AIDS organizations have received Crossroads grants. In addition, her private philanthropy has benefited lesbian and gay Chicagoans in innumerable ways, from underwriting music events and travel expenses to literary and health conferences, to aid for publications and documentaries preserving lesbian and gay history.
As a consultant in 1980 and 1981 to the Reproductive Rights Project of the American Civil Liberties Union of Illinois's Roger Baldwin Foundation, Hardisty wrote A Speaker's Manual on Abortion. She has also served on boards of the Illinois Justice Foundation, the Ms. Foundation for Women, the Center for Democratic Renewal (formerly the National Anti-Klan Network), and the Reclaiming Diversity Project of the Council for Research on Women. She has produced numerous articles and speeches on issues involving the political right wing, homophobia, cancer, poverty, women's welfare, and feminism.
In 1981, Hardisty formed Midwest Research, a center that monitors the right wing and educates the public. It later became Political Research Associates in Cambridge, Massachusetts. As its head, she testified in the court fight over Colorado's homophobic Amendment 2.
In 1989, after several personal battles with non-Hodgkins lymphoma, Hardisty became a founding member of the Women's Community Cancer Project in Cambridge and Boston, as well as advising Chicago women's cancer organizers. As a Massachusetts resident, she has also served on boards of the Civil Liberties Union of Massachusetts, the Institute for Affirmative Action, Grassroots International, and Washington's Center for Women Policy Studies.
Jean V. Hardisty, passed away March 16, 2015 at her Somerville, Massachusetts home, she was 69.