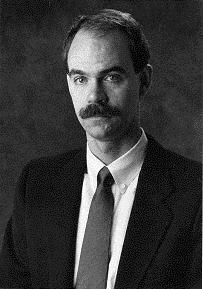 INDIVIDUAL | Inducted 1997 [Posthumous]
As an American Civil Liberties Union of Illinois lawyer, John Hammell fought for gay and lesbian rights and for the rights of persons living with HIV and AIDS. He also helped to lead in other groups, including Howard Brown Health Center and the AIDS Foundation of Chicago. Born in 1957, he died of AIDS complications in 1995.
He was a highly capable lawyer who devised and implemented strategies that resulted in significant victories under the Fair Housing Act and the Americans with Disabilities Act. He also undertook and succeeded in dozens of important precedent-setting cases, which included the right of same-sex couples to adopt children, the right to have AIDS prevention advertisements posted on Chicago Transit Authority vehicles, and a declaration for the first time that a state law compelling HIV testing was unconstitutional.
Outside the ACLU, Hammell's work was equally important. He was the Illinois representative in the Campaign for Military Service, which sought to end the ban on gay men and lesbians' serving openly in the armed forces. He was the first openly gay representative to the Illinois Nomination Commission, a group established by Illinois's two U.S. senators to propose candidates for vacant federal judgeships. And he worked tirelessly with other activists in Illinois and elsewhere to secure legal protections for lesbians and gay men and for persons with HIV disease. Before his ACLU tenure, Hammell was a staff attorney for Business and Professional People for the Public Interest, where he litigated several major racial discrimination cases.
From 1985 to 1988, he served on the Howard Brown Health Center board and co-chaired its Legal Assistance Program. He was on the board of the Lesbian and Gay Bar Association of Chicago from 1988 to 1990, a member of the Service Providers Council and the Advocacy Committee of the AIDS Foundation of Chicago from 1988 to 1994, and Midwest regional representative to the National Gay and Lesbian Legal Rights Roundtable from 1988 to 1994. He received the 1993 Joseph Alongi Award from IMPACT, the Illinois gay and lesbian political action committee. He received other awards in 1992 from the Public Interest Law Initiative and in 1991 from the Illinois Human Rights Foundation and the National Gay and Lesbian Task Force.
A Detroit native, Hammell earned his bachelor's and master's degrees in communication studies from Northwestern University. He graduated with honors from Harvard Law School in 1982, where he was an editor on the Harvard Civil Rights–Civil Liberties Law Review and chaired Students for Public Interest Law.
In 1995, Hammell died from complications of AIDS, survived by his life partner, John U. Baker; his parents; four sisters and a brother; and eight nieces and nephews. He was a proud, openly gay man who refused to be an outsider, and he relied on a deep religious faith for sustenance.