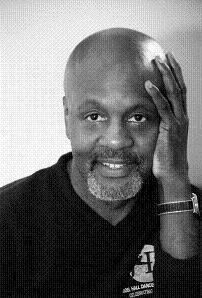 INDIVIDUAL | Inducted 1993
As an impresario, choreographer, and dance instructor, Joel Hall is one of Chicago's cultural treasures. With international credentials and recognition, he is committed to the art of dance and the training and presentation of Chicago's youth through the dance medium. He received his Bachelor of Arts in Sociology from Northeastern Illinois University in June, 1972 and subsequently completed major course work towards his Master of Science Degree in Social Sciences.
A native of Chicago, Joel co-founded the Chicago City Theater Company in 1972. This unique performing arts organization includes the Chicago City Theatre, the Joel Hall Dancers, and the Joel Hall Dance Studios. He is the Artistic Director and Principal Choreographer to his own dance company, and Director and Chief Instructor for his training studio.
Joel Hall has achieved an international reputation for his dance company and acclaim as a choreographer whose work, though based in his unique Chicago jazz style, expresses a rich dance vocabulary embracing the classical and modern idioms, as well. Under his leadership, the Joel Hall Dancers has presented at the prestigious Joyce Theater in New York City, and conducted European tours since the company's international debut at Glasgow's Mayfest in 1985. Among the highlights of these tours have been appearances at the Belfast Festival, two seasons at London's Bloomsbury Theatre, the 2000th Anniversary Celebration of Bonn, Germany, the 800th Anniversary Celebration of Northhampton, England, three seasons at the Playhouse in Liverpool, and sold-out performances in Moscow and St. Petersburg, and in Bergen, Norway.
As a Chicago-based artist, one of Hall's primary missions has been to present the choreography of both world renowned and lesser known Chicago-reared dance artists. As a result, the Joel Hall Dancers premiered ballets by such acclaimed artists as Paul Sanasardo and Talley Beatty, while giving prominence to such newer choreographers as Lynn Blom and Laurie Sansa. In 1987, Talley Beatty selected the Joel Hall Dancers to present his classic modern ballet "Congo Tango Palace" at the American Dance Festival's first "Celebration of the Black Tradition in American Modern Dance."
Hall created ballets for Maria Tallchief Paschen's Chicago City Ballet, the Zenon Dance Company in Minneapolis and Ballet Tennessee in Chattanooga. For Chicago Opera Theatre, he choreographed Bizet's "The Pearl Fishers". He has also choreographed the Goldie Hawn film, "Wildcats", as well as the Pegasus Player's 50th Anniversary presentation of Duke Ellington's only musical, "Jump for Joy".
Joel Hall has earned international recognition as an outstanding teacher of jazz dance. He has instructed master classes and presented workshops at several American colleges and universities, including Northern Illinois University in DeKalb, Wayne State University in Detroit, and New York State University in Oneonta. He has also taught classes in Liverpool, Glasgow, Inverness, Belfast, and Portsmouth in Great Britain, as well as for "Dancemasters of America."
Hall has created more than 40 ballets for his own company, and he is noted in two major books on the contemporary dance arts: Black Dance by Edward Thorpe and The Black Tradition in American Dance by Richard Long. (Please note: this information has not been updated since the time of the member's induction).