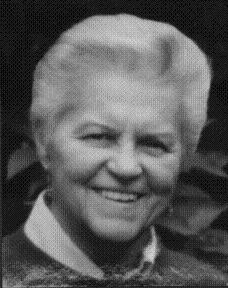 INDIVIDUAL | Inducted 1996 [Now Deceased]
After joining Dignity/Chicago in 1975, Arlene Halko became its first lesbian president and was on its board for five years. She was a co-founder of Chicago House in 1985 and tirelessly assisted it. As a medical physicist, she was a familiar face on Cook County Hospital's AIDS ward until 1993, and as owner of Piggens Pub from 1982 to 1989 she used the bar as a community support vehicle. It is not surprising that she was selected as Gay Chicago Magazine's A Woman of the Year in 1988 and was honored at the Illinois Gay and Lesbian Task Force's annual dinner in 1990 for her significant volunteer contributions to many of Chicago's AIDS and gay and lesbian organizations.
Halko was born in Chicago and has lived here for 60 of her 63 years. For 32 years, she worked as a medical physicist in area hospitals, retiring in 1993. While at Cook County Hospital, she was a familiar face on the AIDS ward.
In 1975, she joined Dignity/Chicago and she served as its first lesbian president for two terms. During her tenure, the group's first female chaplain was hired, and chapter members went to Wichita, Kansas, to protest the attempted repeal of that city's gay and lesbian rights ordinance.
In addition, Halko's contributions to serve people with HIV/AIDS were substantial. She was one of the nine co-founders of Chicago House and Social Service Agency in 1985. During the early years of her association with Chicago House, she helped with fundraising by promoting bar nights, tag days, Christmas bazaars, and rummage sales. When Chicago House purchased its West Town facility in 1986, Halko oversaw the building's renovation, including everything from plumbing to painting. She also took part in site selection for the agency's Edgewater facility, and for two years she headed the Chicago House board's nominating committee, recruiting much talent for the organization.
Halko has been described as a tireless advocate for people with HIV/AIDS, one who immerses herself in the project at hand and presents herself in a professional manner. She was instrumental in lobbying politicians, from aldermen to United States Senators, to secure government funding for direct services to people living with HIV/AIDS.
Because of her commitment to our community and because of the passion and professionalism with which she undertakes volunteer activities, Halko's contributions to gay and lesbian Chicagoans will not be forgotten. She passed away March 22, 2007 of heart failure at the age of 73.