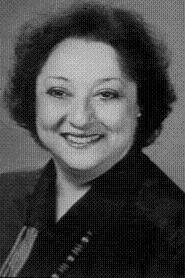 FRIEND OF THE COMMUNITY |  Inducted 1994 [Now Deceased]
A Chicago native, having spent her childhood in Garfield Park and West Rogers Park, who Adrienne J. Goodman was named "Friend of the Community" for her commitment to lesbian and gay inclusion in politics. S
She graduated from Northwestern University and received a master's degree from the University of Chicago. Her mother, Rose Goodman, is well known to the gay and lesbian community and has been a strong supporter of her daughter's ongoing commitment. As City Council staffer and Democratic Party activist, she advocated for gay and lesbian rights. Goodman has been listed for the last two years in Who's Who in American Politics.
She spoke six languages, including American Sign Language. She worked on immigration issues for U.S. Sen. Carol Moseley-Braun, and acted as consultant to the Israel Women's Network, an organization which advanced women in politics in Israel. In 1975 she chaired the campaign of Grant Ford, the first candidate from the Chicago gay community to run openly for office, in his race for 44th Ward alderman. Goodman worked to build coalitions to achieve power within the political process and has been a voice on behalf of lesbian and gay inclusion.
While on the staff of the Chicago City Council's Rules Committee, Goodman worked to pass the human rights ordinance. In tandem with members of the Lesbian and Gay Town Meeting, she was the staff coordinator for the ordinance. In her position, she helped enable the lesbian and gay community to develop an access to political power which it never before had.
Goodman's work in independent politics continued when she was elected Democratic Committeewoman of the 9th District in 1986. Her history as an advocate for the community lent itself to her election in a district which has a sizable lesbian and gay constituency. Her advocacy on behalf of the community within the Democratic Party helped produce the first human rights plank in the party's state platform. At the 1988 Democratic National Convention in Atlanta, Goodman was among a group who successfully petitioned the national party to include human rights in the national platform.
In Illinois, she guided state Democratic leadership to meet with the lesbian and gay community and begin a dialogue. As committeewoman, Goodman was vocal in her opposition to the elections of University of Illinois trustees and other homophobic officials. Goodman actively supported Mayor Harold Washington, under whose administration the city's human rights bill was passed. She took great pride in her successful 1992 campaign to push through the open state Democratic primary, which had tremendous impact at that time and continues to affect subsequent elections.
As a friend of the gay and lesbian community, Adrienne Goodman earned its respect and gratitude for her continued support of critical issues, her open-door policy, and her indefatigable energy and good humor.