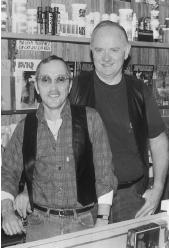 INDIVIDUALS | Inducted 2001 [Now Deceased][Posthumous]
Robert Maddox and Frank Goley helped to pioneer openly gay business in Chicago beginning in 1972 with their Male Hide Leather store. There Goley created many designs that found favor with leather and motorcycle enthusiasts worldwide, gay and nongay for their originality and craftsmanship.
The company began as a hobby by Goley, a self-taught leather craftsman, to meet requests from his lover and partner since 1962, and from friends. In 1972, Chicago gay businessman Chuck Renslow approached Maddox and Goley about starting a business in the cavernous basement of the Gold Coast bar, which was then located in what was already a nearly century-old building at 501 North Clark Street and which was itself internationally known as a center of gay male leather culture. Open only four nights a week, Goley and Maddox's small store under the building's Illinois Street vaulted sidewalk soon netted $48,000.
Customers were so keen to have Goley's designs that he soon was working seven days a week on their production. He left his railroad business office job to become a full-time entrepreneur with Maddox, who in turn quit his job and concentrated on store development. In August of 1974, the store expanded into a street-level storefront adjacent to the Gold Coast at 66 West Illinois Street. Maddox and Goley remained there until 1984, when the building was converted to offices and Male Hide had to move. They then found the store's next location, 2816 North Lincoln Avenue, bought the building, and remodeled it. Male Hide continued to flourish in its more northern location, carrying not only specialty designs by Goley and others but also mass-produced hats, jeans, vests, jackets, and accessories. For years, Maddox would set up temporary shop at motorcycle events and leather pageants nationwide in order to enhance sales. Male Hide was now one of Chicago's oldest and best-established gay-owned businesses.
For more than 22 years, Goley's designs and craftsmanship retained popularity, not only in the gay and non-gay leather communities of Chicago but also nationally and internationally. Collaborating with Maddox, Goley developed such a reputation for fine work, both fantasy wear and classic creation, —that the International Academy of Design hired him to teach leather fashion design.
Goley died on May 1, 1994, at Illinois Masonic Medical Center. A few years earlier, he was quoted as saying of his long partnership with Maddox, "We not only love one another, we have a deep respect for each other's opinions and individuality—Bob doesn't try to make me a copy of him, and I don't try to make him a copy of me."
Maddox sold the business to new owners before he passed away in 2011.