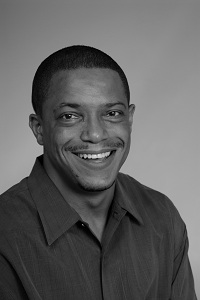 Photo by: Hal Baim/Windy City Times
INDIVIDUAL | Inducted 2012
Sanford E. Gaylord, is an actor, a creative LGBT and HIV/AIDS activist, and a writer. He co-founded A Real Read, an African American LGBT performance ensemble; has written for LGBT-themed films and in columns for LGBT media; and participated in HIV/AIDS research and education projects.
Since 1995, the actor, activist, and writer Sanford E. Gaylord has used his creative skills to contribute to Chicago's LGBT communities. In 1996 he co-founded A Real Read, an African American LGBT performance ensemble that was inducted into the Chicago Gay and Lesbian Hall of Fame in 2007. Gaylord contributed both onstage and behind the scenes for most of the ensemble's local performances and national tours. Audiences have seen his work in many local theaters, including the Randolph Street Gallery, Black Ensemble Theatre, and Bailiwick Repertory. A Columbia College graduate, he is currently earning a master's degree in public administration from the Illinois Institute of Technology.
His film and television credits include "Leaving the Shadows Behind" and "Living With Pride: Ruth Ellis @ 100". Gaylord also co-starred in the award-winning three-part film series "Kevin's Room", which received accolades for its realistic, positive portrayal of LGBT people of color and their allies.
In 1998 Gaylord received the Chicago Association of Black Journalists' Award of Excellence in Commentary while a contributing writer for Blacklines, Identity, Arise, Positively Aware, and Windy City Times, where he wrote about being an HIV-positive African American gay man. In 1999 he received the Greater Chicago Committee's Black Kettle Award for arts and journalism. Gaylord has also directed several HIV education performances in the area, including those at Chicago Public Schools events and the city Department of Public Health's World AIDS Day ceremony. In 2002 he received the Derrick Henderson Award for Outstanding Community Service, presented by Windy City Black Pride. In 2011 he was honored by the Youth Pride Center and the Frankie Foundation as a Living Legend.
He is a member of the International AIDS Society, a Community Advisory Board member for the Chicago Developmental Center for AIDS Research, and a member of The Black Gay Research Group. He was a voting member of the Chicago Area HIV Services Planning Council and the city's HIV Prevention Planning Group.
Gaylord currently serves as the project director for Project POWER, a CDC-funded, multi-site collaborative that aims to address the HIV prevention needs of black bisexually-active men by risk-reduction intervention delivered through the Internet in real time. In 2012, Project POWER presented "Development of Project POWER: An Internet-Based HIV Prevention Program for Black Bisexual Men" at the XIX International AIDS Conference in Washington. (Note: information listed has not been updated since the member's induction).