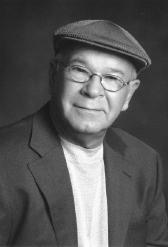 Photo by: Munoz Photography
INDIVIDUAL | Inducted 2002
Soon after his 1967 Chicago arrival, James "Little Jim" Gates was a leader in the early homophile organization known as ONE of Chicago. By 1975 he had opened Little Jim's, North Halsted Street's first gay bar, which helped to pave the way for the commercial district's revitalization. This pioneer has consistently supported community charities and encouraged his customers to do so.
Born in Lafayette, Indiana, Gates moved to Chicago in 1967. Initially he was a waiter at Monastero's Restaurant on the Northwest Side, but in 1975 he opened Little Jim's, the first gay bar located on Halsted Street in the Lake View community. Its opening paved the way for other gay-owned and –operated businesses to follow.
During his first years in business, Gates recalls encountering neighborhood opposition to the opening of a gay establishment. Determined to succeed, he became an active advocate for the LGBT community in Lake View. In later years, Gates became an outspoken advocate for stricter legislation against hate crimes.
Soon after Gates opened Little Jim's, other proprietors established LGBT bars and retail stores on North Halsted Street and helped to revitalize the neighborhood. Today, the street is recognized by Chicago city government as vital to Chicago's LGBT community and has received national publicity.
Out of the spotlight, Gates has made substantial, often anonymous contributions to the LGBT community. He raised money to support creation of the Rodde Center, a precursor of the currently anticipated Center on Halsted community center. When AIDS began to ravage the gay population, Gates organized bar-sponsored fund-raisers and galvanized community support that raised more than $250,000 over a 20-year period to help support Chicago House.
His bar fund-raisers have also helped to support Open Hand Chicago, NAMES Project Chicago Chapter, Horizons Community Services, and other community groups. Although the bar held many fund-raising events, Gates increased all donations by his own personal contributions and, by example, asked others to do likewise.
Even before opening his own business, Gates was a pioneer. He lead and was active in ONE of Chicago, a group sponsored by the late Chicago lawyer Paul R. Goldman that was the local chapter of ONE, Inc., the early homophile organization headquartered in Los Angeles.
Gates has dual residences in Chicago and Florida. On moving to Florida in 1980, he opened another LGBT business establishment. Today, Gates is retired and spends much of his time in Florida.